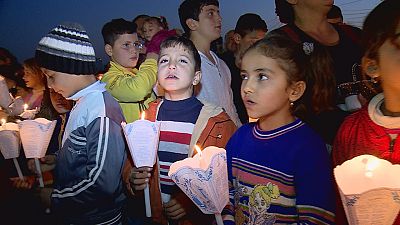 Originally a celebration of the Catholic faith, the Festival of Lights born in the French city of Lyon has today grown into a world-renowned cultural and artistic event.
But in Erbil, the celebration took on its original meaning.
Thousands of Christian refugees who have found shelter from ISIL fighters in the capital of the Kurdish region in northern Iraq came together to celebrate the Virgin Mary and pray for peace.
"I hope that security will return and that people will be able to go back home and back to work. And that Iraq will be reunited," said one woman.
The celebration was initiated by a delegation led by the Cardinal of Lyon, Monseigneur Barbarin, made up of church representatives and volunteers, who brought with them some 800 kilos of candles.
The refugees walked from Erbil's St Joseph Cathedral to the square of the Virgin, which marks the entrance to Erbil's Christian quarter.
"It's a completely crazy adventure. This country and this region have been torn apart by war, violence and bloodshed for years and there seems to be no diplomatic solution, it seems like no talks are able to help the people, so we thought, well, all we have to offer is prayer, but we will bring that," said Natalia Trouiller, director of communication for the Diocese of Lyon.
For Iraqi refugees, going home is very difficult. It's even harder when they are Christian. Watching their brothers being forced out of their own country is heartbreaking. This celebration has given them renewed hope.
"I didn't really know what the Christian community here looks like anymore. But when I saw that huge crowd gather for the procession and fill up the square, I was really moved, it means life goes on despite everything," said Mohammed Al-Tawil, a priest from Lyon.
"The children are the future of Iraq's Christian community. And they happily took part in the celebration, in the hope of one day going back to school. For just a few hours, these refugees were given a chance to put aside their pain and suffering and find some comfort and peace. And they told us of their hope to celebrate the festival of lights again next year, but this time, back home," said euronews' correspondent in Erbil, Raphaële Tavernier.