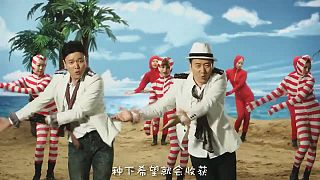 'Little Apple' by China's Chopsticks Brothers is a massive success at home.
But their recent appearance at the American Music Awards in November, which was meant to herald their international coming-out, fell flat after it emerged their performance took place during a commercial break, meaning the US audience never saw it.
It was, however, recorded and released online on Chinese video sharing websites, where it has reportedly been viewed more than one billion times.
"Why were we invited to the American Music Awards? Let me think… It's because of the influence we have in such a big country with a population of more than one billion. The way I see, we were invited to the Awards because the Chinese market is huge and the Americans have an interest in it," says Chopsticks Brother Wang Taili.
'Little Apple' is one example of how the Chinese are trying to emulate South Korean hits like Gangnam Style to crack the global music market.
The Chopsticks Brothers, who are not brothers in real life, have their own idea about why their song enjoys such success.
"I believe the reason is that Chinese people are so serious. When they heard this song, watched the video and danced along to it, they realized that Chinese people can be funny and easygoing. Chinese people today are under huge pressure and this song is just simple and happy," says Chopsticks Brother Xiao Yang.
Chinese singer Rollin Wang has racked up more than 10 million views in just over a month on Youtube with her title 'Chick Chick', but the song has not scored gold in China.
"Some people among our Chinese audience think this song has no meaning. But I think this kind of song can relieve pressure and make people happy. Different songs have different values – the value of this song is that it offers a simple kind happiness, all you have to do is consume it, you don't need to think too much," she says.
With Youtube blocked in China, it was only after a fan sent him a screenshot of the Youtube video with about 4 million views that Wang's producer, Liu Yuanlong, realised the song was a hit outside of China. He has this explanation as to why it's so popular in the West:
"One of the major reasons the Chick Chick song is so popular in Europe and the U.S. is because this style of music is in line with international music norms. For foreigners this rhythm and music is exactly the same as the music and beat of the most innovative dance music. So when they listen to it, they don't think it's a totally Eastern thing, they think it's in line with the rest of the world," he says.
Chinese artists still have a long way to go in the face of massive competition from South Korea's hugely popular K-pop. And a recent deal between Chinese online giant Tencent and successful South Korean label YG Entertainment won't make it any easier.