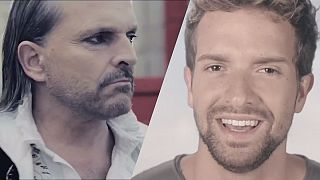 'Amo' is the new album by Miguel Bosé, one of Spain's most influential artists.
The 58-year old Grammy-award winner is the father of two sets of twin boys born via surrogate mothers. He says his sons have completely changed his life, and his new album reflects his state of mind.
"I am the fortunate father of amazing children. I have 16 dogs that love me. I have friends that I adore. I cook for them at weekends and we have great conversations around the table. I have this thirst to learn new things and it never goes away. How else could this album have come to be? It couldn't have happened any other way. It is full of light and colour, just like the song 'Amo', which is dedicated to knowledge and hope, the hope of experiencing new things," he says.
The son of an Italian actress and a Spanish bullfighter, Bosé has sold more than 20 million albums, mostly across Spain, Italy and Latin America, in his thirty-year long career.
He has announced a tour in support of his new album starting next May.
Spanish pop star Pablo Alborán says his third album 'Terral' finally shows the real him. The 25-year-old singer-songwriter wrote all the songs on the record.
When it comes to inspiration, he says it's all around: "I always say that I'm kind of 'crazy', everything inspires me. I'm very passionate. I feel that everything deserves a song, from a relationship, to a movie, a book or a journey."
The heartthrob's favourite theme remains love, his smooth voice perfectly suited to romantic ballads like the new album's 'Por Fin'.
"I wanted to include a song about peace, about a healthy and pure kind of love, the kind that makes you want to be a better person. I think that's the best kind of love, the one that makes you become a better person and not this love where everything is perfect and all rosy because life isn't like that," he explains.
'Terral' went straight to number 1 in Spain's album's sales, reaching Platinum status in its first week.
Pablo Alborán became Spain's top-selling act with his 2011 self-titled debut and has been hailed as the new voice of Spanish pop, with his well crafted lyrics and sophisticated musical composition.
'Terral' is out now.