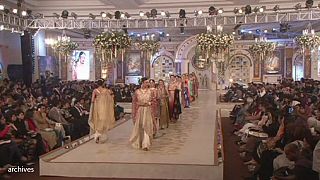 Designers displaying their collection on day two of the three day Pakistan Fashion Week in Karachi included the renowned Shehla Chatoor.
Shehla founded her signature label in 1995 after graduating from the University of Houston and quickly became well known for her eclectic taste and artistic intuition.
"It is a Japanese collection inspired from Japanese paintings and we have used old Japanese basket-weaving techniques. And we have done saris, ball-skirts, jackets so I hope everybody likes it tonight."
Adnan Pardesy is a creative fashion designer who likes to experiment in his work.he graduated from the Asian Institute of Fashion Designing in Karachi back in 2002.
He started his career eight years ago using garments from his fathers textile business. It caught the public's imagination and he has not looked back since.
"My signature style is manipulating fabric and things like that. And this time, you know, we did a lot of graphic imagery and embroideries rather than going the route which is about, you know more flowers and things like that. This time we wanted to do faces and very intricate embroideries. And it was a simple plain black and white collection," he explained.
Designer Sanam Chaudri unveiled her collection inspired by her grandmother. It wowed the audience with its diversity of hues and vintage shades such as ivory with red, black and burnished gold.
FnKAsia, the brand of Huma Adnan added a certain vibrancy and panache to the show. It stood out because of the folk-spirit that inspired the collection along with the beautiful and rich embroidery giving it all a free-spirited feeling.
Pakistan's premier designer Deepak Perwan showed his latest menswear collection which combined luxurious fabric with immaculate tailoring.