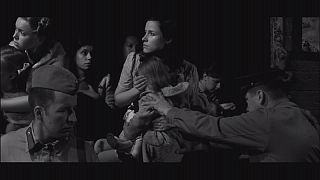 'In The Crosswind'
'In The Crosswind' is undoubtedly one of the highlights of Estonian cinema in 2014, and it is causing a stir at film festivals around the world.
The brainchild of Martti Helde, the art house film deals with a subject that is very sensitive for many Estonians: Soviet Russia's ruling to deport more than 40,000 Estonians, Latvians and Lithuanians to Siberia in June 1941.
Filming took the young Estonian three and a half years. Why? Because Helde took the radical decision to film in black and white and stage almost the entire film in still images. With 13 such still shots, it took between two and six months to prepare each scene, culminating in one day of shooting.
The 'June deportation', as Helde calls it, still evokes strong emotions in Estonia. And almost every family has a story to tell.
When making 'In The Crosswind', the filmmaker worked with letters from relatives and friends, and other archive material. He put them together to tell the story of a young mother, who is separated from her husband and deported to the uninhabited territories of Siberia.
At 27, Helde is the youngest director to present a film at the 2014 Black Nights Festival in Tallinn.
His movie is competing in the International Competition and is in the running for the Tridens Estonian Film Award.
It is also his feature debut as he explained to Euronews: "The idea actually came from one precise letter. It was the first one I read. There was a line: 'I feel like time has stopped here in Siberia. That my body is in Siberia, but my soul is still in homeland'," Helde said.
"Then it struck me that I wanted to make a film when everybody or the time has stopped. To recreate the feeling that those people in Siberia felt.
"I wanted to take away the freedom of the audience, so they can't choose where to look, where is the focus point. So this kind of recreation of this feeling was the main idea," added Helde.
'In The Crosswind' has already been shown in Toronto, Warsaw, Thessaloniki, Mannheim and other festivals. Further festival appearances are scheduled in the near future.
'Cherry Tobacco'
Around six full-length, homegrown films are produced per year in Estonia; a fraction of the amount produced elsewhere in Europe.
2014 has been particularly fruitful for first-time feature makers. Katrin Maimik is one such director. She joined forces with her filmmaker husband Andres Maimik to make 'Cherry Tobacco'.
The movie tells the story of a country girl's coming-of-age. Laura, the main character, is bored. It is summer and she doesn't have much to do. So, she decides to go on a hiking trip through a bog with trek leader and nature lover Joosep.
'Cherry Tobacco' was shot near Maimik's home in southern Estonia; an area where people generally have a strong connection with nature.
The start of Laura and Joosep's relationship is catastrophic, but it later begins to blossom and Laura becomes confused. Is this her first love? Or is she looking for a father figure?
We asked Katrin Maimik if the story was based on personal experience.
"It is fiction, of course. But there are some details and moments from real life. If you do a film about falling in love then you must have some experience. There is some, there are some things from my life, yes", she replied.
'Cherry Tobacco' came out in Estonia in November 2014 and has appeared at several film festivals, including Karlovy Vary, Minsk, Leeuwarden, Luxembourg and Cambridge.