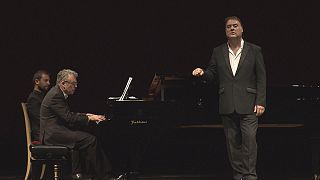 One of the most outstanding bass-baritones of our time, Bryn Terfel returned to the stage of La Scala in Milan – with a very personal recital.
The Welshman took the audience on a diverse journey through the world of Romantic and French repertoire, as well as art songs from the British Isles.
"It is a kind of a trip down memory lane for me. I have chosen songs that were the first ones that I sung in college. My first singing teacher was Arthur Reckless and for the first three years of my college days he would not allow me to sing any opera arias, it was solely songs because he felt that the voice wasn't developed enough. I was still too young, maybe naïve," he explained.
Among the works he studied intensively were those of the English 20th-century composer John Ireland.
"John Ireland of course was an iconic writer, who has written some beautiful songs for the bass-baritone voice that we all tend to love to sing. Sea Fever is synonymous with young students and that is the first song that I ever learnt," reflected the Welshman.
Since his studies 30 years ago, Terfel has been working with the acclaimed Scottish accompanist Malcolm Martineau. Recitals are challenging, often described as the 'Champions League' of singing – precise technique and good story-telling are at the heart of this subtle art.
"The wonderful thing about Bryn is that he has a big voice that can also sing really softly and he dares to sing softly. He enjoys the power of the big stuff but he also enjoys the delicacy of the really soft things and using the words and making the audience really lean forward to listen to what he is saying," said Malcolm Martineau.
One of Terfel's favourite Lieder composers is the Austrian genius Franz Schubert who wrote more than 600 songs in his short life. Schubert performed many of them on the piano with his favoured singer Johann Michael Vogl who influenced and inspired his work.
"Malcolm and I went to Kremsmünster, Steyr, Salzburg, Vienna to follow the path of Schubert and his baritone Michael Vogl, just to have some sort of insight into this magnificent composer," said Terfel.
"Schubert was a genius in entering into the spirit of the character that he was writing about. I call Schubert the 'Song-Shakespeare'. He understood everything. He understands women, he understands bad people, he understands good people and he manages to paint them," opined Martineau.
"Recitals bring you back to the bare-knuckle of performances. You and your pianist on the stage, alone, no orchestra, no chorus, no make-up, no costumes and it's all about the songs and the poetry," concluded Terfel.
In this Musica you can hear abstracts from the following pieces:
Franz Schubert: Auf dem Wasser zu singen D 774 Gruppe aus dem Tartarus D 583 Am Tage aller Seelen (Litanei auf das Fest aller Seelen) D 343
John Ireland: Sea Fever