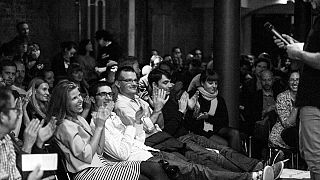 This September cities from all the continents of the world hosted Social Media Week, among them Sydney, Chicago, Rome, Johannesburg and Sao Paolo were transformed into the destination for digital natives and all others interested in the field.
The unique character of social media lies in its availability to everyone, independent of cultural, social or professional background – this phenomenon offers the famous '15 minutes of fame' predicted by Andy Warhol back in 1968. (Or probably more than 15, as long as your post is on the top of the newsfeed). The shift from social networks to social media happened pretty much unnoticed, but its effects are obvious. To put it simply: social networks were your private space, a sort of diary which you could share with your circles of friends, now in social media your space is semi-private, as a user you have less influence on what will be displayed in your newsfeed – market players care about it instead.
Although you still watch TV and listen to the radio in your car, the major news sources are your Twitter/ Facebook newsfeeds. Social media profiles, once private and therefore subjective have turned into credible sources of information. You are definitely familiar with phrases on TV, radio and in newspapers saying "prime-minister X wrote on Twitter that…" or "company Z announced on Facebook the launch of their new product…". If traditional media accepts them as equal, then we are talking about a serious phenomenon that we're lucky to witness and contribute to. When it became possible for companies to create pages in social networks alongside private accounts, and to connect these profiles in different networks, social media took its first steps to becoming what it has grown into nowadays. And now we are dealing with a new booming and unpredictable industry.
Social Media Week (SMW) was first launched as a conference in New York in 2009 and attracted more than 2,500 visitors. The team at SMW define the mission of the event as "to help people and organisations connect through collaboration, learning and the sharing of ideas and information". 2010 was a crucial year for SMW, the event not only expanded to six more cities in America and Europe but also became biannual. SMW offers its attendees numerous workshops, presentations, panel discussions, special events and even a job fair. The event takes place in February and September in different cities all around the globe, you can find the schedule on the official Social Media Week website.
I attended the recent Social Media Week in Berlin, and would like to explain why you shouldn't miss the next one happening in your area. Here my 7 reasons why we, the representatives of Generation Y, should visit this event:
1. Network. Social media people are active offline as well as online, open for a conversation and usually have a bunch of creative ideas in store. SMW is the place to find your potential start-up partners and build great connections for your professional and creative future.
2. Get an insight into the industry Isn't social media just about messaging with friends and liking images of cute animals? Maybe it was yesterday, today it is a powerful tool for reaching success in absolutely every professional field. During the presentations and workshops you will see what is going on backstage in the social media world and you'll discover the variety of ways to apply modern digital technologies for the success of your business.
3. Boost your career. There's a whole day during SMW devoted to building a career in, or with, social media. Professionals from the HR-field share their tips and tricks for creating a perfect applicant profile, having a successful interview and getting a dream job. And the SMW Career Fair offers a treasury of dream jobs – check out if the representatives of popular online-enterprises such as Podio, Vice or BlaBlaCar have the right one for you. If your dream is to start your own business or develop an existing one – don't miss the chance to attend the presentations of successful entrepreneurs and get valuable advice from them.
4. Learn, learn, learn. Be ready for a storm of new information during SMW! Whatever your passion and field of interest SMW is a great occasion to broaden your knowledge and consult experts.
5. Collect and develop ideas. Get inspired! There is another very important thing to note about SMW: it is suitable for beginners as well as professionals. Even if you are still undecided about your wants and goals, the versatile programme of SMW will give you a chance to try bits of this and bits of that. Lots of different topics are addressed so listen attentively, ask questions and be open for inspiration.
6. Meet the gurus of the industry. We all have role models. They may be people, they may be businesses as well. SMW invites eminent representatives from the private sector, not only to share their experience and knowledge, but also to introduce them to the young and ambitious audience, eager to learn and create an impact – you!
7. Have fun! Although SMW is held in a non-formal, relaxed, collaborative and friendly atmosphere, the organisers go even further to keep the attendees happy and invite them to daily after-work events where all the things described above are accompanied by music and drinks. Not to mention the opening and closing parties in each city's hippest locations – the perfect framing for an exciting week!
And one of the best things about SMW? Several events are free to attend! I believe now you have enough motivation to take a week-off next February and dive into the world of social media. See you there.
Photo credit: Tilman Vogler - www.tilmanvogler.com