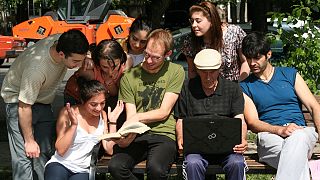 Generation Y spoke to to Anushka Hayrapetyan, the Project Director of Young Citizens of Armenia to find out more about how the project is working to get young Armenians engaged in local society.
Generation Y: Maybe you can begin by telling us, what is Young Citizens of Armenia?
Anushka: Young Citizens of Armenia (YCA) is an initiative of the KASA Swiss Humanitarian Foundation. It was launched in 2011 and is aimed at encouraging the autonomy and critical thinking of young Armenian people within the over-arching goal of creating a participative and democratic society in Armenia. The project is currently funded by United Nations Children's Fund, UNICEF and the city of Basel in Switzerland.
Generation Y: What kind of activities form part of the initiative?
Anushka: First, we train them using methods of non-formal education. We nurture skills such as team work, time management, communication skills and try to raise awareness and get them involved in civic activism. We work directly with young people of all backgrounds – more than 20 youths visit the clubs every day. We currently have an English club, French club, cinema club, psychology club, human rights club, and an 'intercultural' club. One of the best features of the project is that we help them to discover their potential, for the development of themselves, their communities and the country as a whole.
Generation Y: How old are the youth that take part in these clubs?
Anushka: The youth attending the clubs are between 15 and 35-years-old. Last year our clubs hosted 4,197 people – which is a big number for Armenia!
Generation Y: Can you tell me a bit about life for young people in Armenia?
Anushka: The Armenian youth lack places where they can get information, enter into healthy debates, develop critical-thinking․ So these two centres in Yerevan and Gyumri provide the Armenian youth with the platform for meetings and resources in order to enable them to tap into their potential. Another thing to mention, there is a big amount of emigration from Armenia. The number is especially high among young people.
Generation Y: How have things changed in recent years?
Anushka: Nowadays, the young people of Armenia find themselves in a rather difficult situation. They have lived in an independent country for more than 20 years now but still lack the ability to practice active citizenship. Armenia is faced with numerous social, economic and political difficulties. Added to this, the problematic legacy emerging from Armenia's Soviet heritage and the problems emerging from its transition to capitalism clearly influence the situation of young people in the country, who often refrain from acting and engaging in the country's economic, social, political and cultural life.
Generation Y: How does this affect political engagement in particular?
Anushka: Whilst most young people feel sufficiently well informed about Armenian politics they lack the critical capacities and competences of e-Culture to analyse their information sources in a critically aware fashion.
Generation Y: What issues do you deal with regarding culture?
Anushka: The proliferation of conservative cultural values is particularly prevalent in the sphere of gender. Amongst other things Armenians suffer from discriminatory family codes (with regards to ages of consent for marriage and problems with divorce), restricted physical integrity (related to reproductive rights, domestic violence and rape) and 'son bias' (proliferation of selective abortion and better treatment of boys in upbringing).
Generation Y: And what kind of materials do you use?
Anushka: We are promoting 'e-culture' which is not that popular in Armenia. Our 37 animators get acquainted with the monthly topic and prepare the club meetings through e-learning platforms which involve an introduction to the topic, quizzes, videos, discussion forums, and other non-formal education tools.
Generation Y: What is the reaction to the initiative and its activities from the local people?
Anushka: It is very popular. Even when the clubs take a one month break in summer or winter, the Espaces youth training centre in Yerevan and the KASA socio-educational and development centre in Gyumri are constantly receiving calls asking when the clubs are going to be relaunched.
Generation Y: You mentioned that many Armenian's are emigrating, why is that?
Anushka: Faced with these kinds of problems, instead of getting civically active, many Armenians try to emigrate. In this project, we want to show that emigration is not the only, and not the best way to deal with the problems that young Armenians face. This project is guided by a principle that escape is not really a solution to our problems and it certainly isn't a solution to the problems facing Armenia. Creating a positive feeling of ownership and showing the importance of personal contribution to the development of Armenia is one of the main objectives of our project.
Generation Y: What about the future? What changes or developments within the project would you like to see?
Anushka: Currently the club component of the project is available to youth in Yerevan (capital city) and Gyumri (2nd biggest city in Armenia). Though we are trying to reach out to as many youth as possible through our youth initiatives and public events, we'd very much like the youth outside Gyumri and Yerevan to also get the chance to have centres and attend club meetings on constant basis.
If you are interested in getting in touch with Anushka or the YCA visit their website or contact them by email (espaces@kasa.am) or on Facebook.