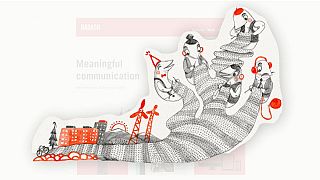 Creating a cooperative – that is what some young people are doing to get out of the unemployment trap. In this report from Sweden, Generation Y reporter Nuno Prudêncio says in doing so, they are also contributing to the social economy sector.
At the office of Rabash, the day has started early. Around 7.30 in the morning staff and clients are sharing a working breakfast. Rabash, based in Gothenburg, is a rather unusual web design company: it is a cooperative owned in equal parts by its members. Each one gets the same salary and shares responsibilities.
"You don't have to have lots of money when you start, you don't need investors," says web designer and Rabash founder Petter Joelson. "We started with our computers. It gave us an easy way to get people very involved in the company and to get them to feel like 'I'm a part of this and I'm happy to do the hard work'. If it's successful, you're part of that, and if it's not… Well, sorry, but we're all in the same position, we're all in the same boat."
And from this same perspective they create websites and communication strategies for companies and organisations engaged in all sorts of causes, be it feminist platforms, animal rights associations or collecting funds for the UN's refugees agency (UNHCR).
"It was important for us to have some ethical values, to show that we stand for something more than just making a profit for ourselves," says Joelson. "We also choose to work with customers whom we think are doing something good for the world, who have something important to say."
Ingrid Bexell Hultén asked Rabash to create a site to serve as a meeting place for people who need partners to form a cooperative.
"Young people value relations and they value realising an idea, a dream," she says. "If you look at the cooperative form of running a business, the numbers are increasing quite rapidly. If we look at the Gothenburg area, we've had an increase of 41%."
Le Mat, a hostel in Gothenburg, is a cooperative that includes people with special needs in its workforce. It and Rabash are on the radar of a new European Commission initiative called InoTool. Both will integrate a database currently under construction, in which contacts of flourishing projects will become available to budding social economy entrepreneurs seeking to create their own networks.
InoTool coordinator Kent Kling says the hostel was an ideal subject: "Le Mat is a hostel very close to the city center of Gothenburg. It's a cooperative and today there are about 10 employees. People from here are employed because they might not have a job in the regular labour market, for the moment.
"InoTool is all about motivating and enabling people to start business in the social economy sector. I think it might be the new way of starting your business in the future. We know the old way has not succeeded so well."
For Petter Joelson, a spirit of cooperation is vital: "It's important to see success stories and to network with like-minded companies and people in other countries in Europe."
InoTool is meant to be a springboard: "We see InoTool as a tool for people who are trying to get into the labour market… you can use it and always bring your own ideas to the market. Because people have a lot of ideas. Make a market of it," says Kent Kling.
The Generation Y stories continue on our social media pages.