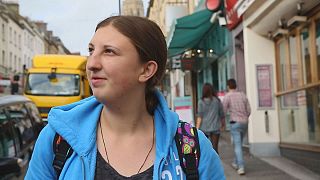 To what degree does our appearance determine our life? Is it a crucial factor when we look for a job? Euronews sought some answers from a young woman who was born with a visible difference.
Alexandria Barker is a psychology student who was born with a cleft lip and palate. Family support and corrective surgeries have made the so-called "visible difference" no longer a problem for her.
She explained: "As soon as you look at a person, people judge you. So, if you have a physical difference, you're judged straight away. If you haven't had any experience of it before, it will be hard to understand how people do feel."
Alexandria told us about the reality of people affected by physical stigmatisation: "Social interaction is a lot harder, because obviously they have lower self-esteem. Then it will be harder to make friends, go out and enjoy simple things. If they're looking for retail jobs or anything like that, serving customers, they'll be afraid to do that. I've had some friends who made sure they didn't get jobs in that role, because they were too scared of the response. Now they're stock room assistants, so they work in the back of the stores."
Euronews visited the Bristol Science Centre and spoke with Nicole Paraskeva from the Centre for Appearance Research at the University of the West of England who told us about an interactive exhibit they have developed that challenges appearance stereotypes. The exhibit asks users to match images of people to possible jobs and activities just by looking at their faces, a task which draws attention to our own deep-seated preconceptions.
Nicole Paraskeva explained: "We recently conducted a survey with 77,000 adults in Britain and found that 60 percent of men and women, aged between 18 and 27 years old, feel ashamed about how they look. We find that already children as young as five years old are worried about being fat, or worried about their shape and thinking about going on a diet in order to change the way they look."
"Children can't escape the media pressure, the media influence, they're watching TV programmes at a young age and they see attractive people. The media constantly shows them how they're expected to look."
The Appearance Matters project underlines how important diversity and differences are. The project is part of the European Commission's Leonardo Da Vinci programme. Its purpose is to train teachers and guidance counsellors to help young people overcome serious appearance issues.
Project coordinator Martin Persson told euronews: "Somebody who has poor self-esteem, or a disfigurement, we teach them social skills on how to interact – to make people see them as the person they are."
"Forty percent of students do not raise their hands in class because they don't want to attract attention to themselves because they have some low self-esteem about their appearance. For young people in Europe today, there is a very difficult labour market to find employment. And if you have additional challenges it becomes even harder."
Alexandria Barker can see the advantages of the Appearance Matters project.
"It would help greatly with self-confidence and esteem. It can get people back in the job market and do jobs they want to do, instead of hiding away," she told euronews.
Martin Persson, referring to a young person with, for example, a disfigurement or some visible difference, said: "If they attend a vocational training school where trainers and guidance counsellors are aware of these issues, they can help these young students to overcome this barrier and have a better chance of finding a job at the end of it."
The Generation Y stories continue on Facebook,Twitter and on our blog.