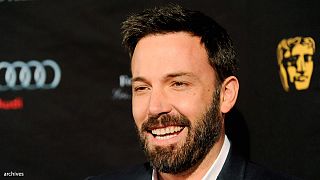 Ben Affleck has been named as the latest actor to take on the role of Batman in the upcoming Man of Steel sequel that will see the iconic superhero come face-to-face with another DC legend, Superman.
The casting announcement, which comes after months of speculation, will be a surprise to many as Affleck was not on the rumoured shortlist. Twitter and the blogosphere reacted quickly to the news, with #BetterBatmanThanBenAffleck trending across the world moments after the revelation.
After the success of The Avengers, there had been much speculation about a 'Justice League' film that would see some of DCs biggest superhero characters come together. While that project seems to have been sidelined for the time being, the exciting sequel announcement was made by Man of Steel director Zack Snyder earlier this year at San Diego's annual Comic-Con convention.
The so far untitled Warner Bros. film is being referred to as "Batman v. Superman" and is slated for release in July 2015.
Greg Silverman, President of Creative Development at Warner Bros Pictures said: "We knew we needed an extraordinary actor to take on one of DC Comics' most enduringly popular superheroes, and Ben Affleck certainly fits that bill, and then some.
Viewers are particularly shocked by the decision after Affleck's mediocre performance in 2003 superhero flick Daredevil. The actor himself even seemed unhappy with his former role, according to Forbes he once said "playing a superhero… I have inoculated myself from ever playing another superhero." He added that wearing a superhero costume "was a source of humiliation."
Suggestions started cropping up on Twitter of actors more suited to the role, popular ideas ranged from Dark Knight actor Christian Bale to the late Michael Jackson, cartoon star Butthead and one of the singers from One Direction.
Really looking forward to seeing Affleck bring the depth and gravitas to Batman that he brought to Daredevil and Gigli.

— Wil Wheaton (@wilw) August 23, 2013
This is what I have to say to Batfleck #betterbatmanthanbenaffleckpic.twitter.com/ZdINHhh7YN

— Marcus Wong (@Bubblegum_Imp) August 23, 2013
Other people have been positive about the choice with GQ magazine saying: "let's not forget that Affleck has come a long way since the dark days of 2003… This is a man who has two Oscars, including last year's Best Director for Argo. In recent years, he's grown into a fine actor in front of the camera too: see the aforementioned Argo, Hollywoodland, or The Town".
Heath Ledger was cast as Joker. Many said it wouldn't work & yet it was the most mesmerising performance.. SMASH IT BEN!!!! #ImDareDevil

— Emmett J. Scanlan (@EmmettScanlan) August 23, 2013