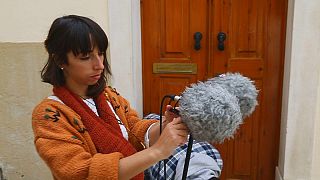 With the advent of digital technology, it may seem easier than ever for independent film-makers to make movies. But if the technology is more accessible, getting funding to make films in Europe is increasingly difficult.
With many countries cutting back on public subsidies, independent cinema is going through tough times. How does a young director make his or her project come true on a small budget?
"You need to use your imagination, whether you turn to crowdfunding, organise a concert or any other kind of fund-raising event. You have to be creative in order to raise money to allow you to be creative," says young filmmaker Tiago Pereira.
Tiago has created a massive, free, online database containing documentaries on traditional, alternative and forgotten music genres in the Portuguese language – art forms which are largely absent from the mainstream music industry.
Young Portuguese director Salome Lamas' most recent project is a docu-fiction set in Peru.
"I am very pragmatic. I don't think about what I don't have. I am not going to imagine a shot that requires a crane if I don't have a crane. Usually the ideas that I have and the places I want to go to are doable. Otherwise I don't even start developing the project," she says.
Salome is hoping to find production partners abroad – international co-productions are a growing trend. But once the film is completed, there is still a long way to go. It is very difficult to get your film screened in a classic movie theatre. Distributors are not keen to invest in independent films, so festivals play an increasingly important role.
"There are some movies that don't get shown anywhere, they aren't shown on TV or in movie theaters. Festivals are the first contact between the public and the film. Usually they open the door to other commercial possibilities, including schools, movie clubs and other events," says Salome.
It is becoming increasingly difficult to survive in a highly competitive industry dominated by Hollywood.
'Europa Cinemas' is an EU-backed network which promotes the screening of European films abroad. Euronews visited one such cinema in Lisbon, run by film producer Paulo Branco. He says that, while it is important for European movies to get screened in cinemas, what's really needed is for national television to open up to foreign language films.
"Europe never had a project for European cinema. There's been talk of preserving diversity, which is very important, but there's never really been a will to discover cinema from other countries. Today, it's nearly impossible for a Portuguese movie to be shown on German, Italian or French television – I mean on public channels – and that's a real shame because it would have been a good way to boost the European film industry," says Paulo Branco.
Salome was lucky with her latest documentary: after being screened at the Berlin Film Festival, it is now leaving the film festival circuit and going on general release across Portugal, Spain and France.
"It is a film with a universal resonance," she told us. "It's about democracy and mercenaries, something that exists in all regimes. Even if we are talking about Spain's anti-terrorist liberation groups or the Portuguese colonial war, there are always connections with similar situations in other parts of the world."