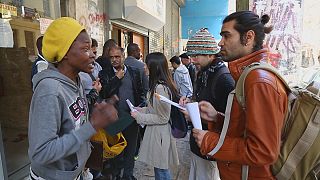 Every year, thousands of asylum seekers arrive in Greece in a bid to build new lives but the reality that greets them is often as stark as the one they have fled from in the first place – the potential of unemployment, destitution, the ever-present threat of deportation, and more recently, the likelihood of racially motivated violence.
There are, however, many Greeks determined to change things. Amongst them, many youth activists are looking to the plight of those migrants, refugees and asylum seekers living in the country. Whilst appreciative of the difficulties of changing the current status quo, for now, they have one, concrete goal: to better understand society's attitude towards asylum seekers.
In the shadow of Greece's economic collapse, that attitude is one heavily influenced by Golden Dawn – the extreme-right party, which won 18 parliamentary seats last year on a violently anti-immigrant platform. Asylum may be a Greek word, but so too is xenophobia, and Golden Dawn have actively ramped up rhetoric blaming foreigners for Greece's problems.
As Katerina Georgoudaki, a volunteer from SCI Hellas – organization dedicated to promoting a culture of peace – explained to euronews: "Racism is becoming very popular in Greece. Many people just see a foreigner and they say we don't want him here. But they don't really know what this person is, where he or she is from, what is his or her life. So for me it is very important to make people aware of it."
After arriving in Greece in 2009, and only recently acquiring his legal status, Kusha Bahrami from Iran, also campaigns for change. At the same time, he recognises the new culture of fear: "The situation is a bit scary for foreigners, especially for people with darker skin, black skin. A lot of people say: 'I'm afraid to go out outside'. Even me, I don't try to go outside too late in the center."
Zarif Bakhtyari from Afghanistan, went into the centre of Athens two months ago, and after what happened to him, he now lives in constant fear of attack.
"I was going around the corner when suddenly I was punched in my nose. I don't know who it was but I got several kicks and punches, I fell down, and they left. I don't know who punched me but it was in the area where the fascists tend to operate, in Agios Panteleimonas."
Amnesty International is one of several human rights organisations in Greece calling for a more effective asylum system and a return to traditional Greek values of welcoming the 'other'. The director of Amnesty's Greek section, Elias Anagnostopoulos, is adamant Greece should not be considered a special case, irrespective of the fact that Greek foreign debt has jumped to astronomical levels.
"There is no excuse for tramping on human rights, regardless if it is economic situation or any other situation. Greece has been a migrant country itself. Greece has signed international treaties and Greece ought to respect that and protect human rights regardless of the nationality, religion or colour of skin."
Whilst many other countries can hide behind the Dublin regulation, which states that asylum seekers should seek protection in the first country they arrive in, with 90 percent of undocumented immigrants entering the EU via Greece, this is not an option for those in Athens. Instead, activists on the ground are looking to their European brothers and sisters for both support and co-ordination.
Service Civil International Hellas is the Greek partner in 'Open Doors' – a project funded by the Europe for Citizens programme, a European Commission scheme promoting civic participation in Europe through exchanges and cooperation. which includes representatives from Spain, Italy, Cyprus and Hungary.
Together with other European representatives, they are trying to develop a strong, common response to the often dismal, and dangerous, conditions asylum seekers face on a daily basis.
As Katerina Georgoudaki notes: "Out of our coordination with Italy and Spain we can gain a lot because more or less we face the same problems. All of us have the economical crisis, all of us have a lot of refugees and asylum seekers. So I think that comparing all this we can have a result in order to understand the situation so that we can do something better."
Once considered the cradle of democracy, Greece's reputation for tolerance is taking a hit.
Even though he received his refugee passport quite quickly – after one and a half years – Zarif is one of many who are desperate to escape for a second time. "My big dream is to go to France, to do a Master degree, and to go ahead with my work in cinema," he said.