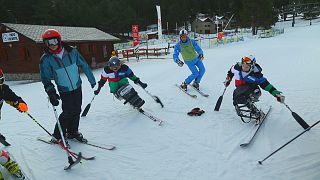 At La Molina, in the Spanish Pyrenees, they have had the very first European skiing competition specifically for disabled youngsters under 18.
Among the 17 competitors from five countries, the youngest is Tadej. He is 10 years old, and blind. Without his guide Dragana Sterdjevic he could not ski.
She is 26 and a former Slovenian swimming champion who has decided to train disabled youngsters.
"I feel that they need it," she told euronews. "They need opportunities just to enjoy. In the water, in the snow. there's no need to compete. For me it's the most important : to stay where you feel safety, where you feel like you are."
On the snow, Dragana goes first, and a loudspeaker on her back transmits instructions to Tadej behind.
"When you say 'gate', he turns," Dragana explained. "He can hear the sound from my communicator, on my back, and that's why he can easily follow me."
Tadej has role models like Gabriel Gorce. He is 22 and can only see very little. He has come to share his experiences of the 2010 Vancouver Paralympics where he competed for Spain.
"Being disabled has possibly opened doors in the ski-ing world in a different way," he told euronews. "I'm at a high level now. I've always tried to live independently of my disability."
On the morning of the big day, Gabriel leads the warm-up. The competition is what everyone has been waiting for, after three days of training and sharing for these Italian, German, Dutch, Slovenian and Spanish youngsters.
They are ready to do battle in three categories: the seated, the upright and the visually impaired.
And it's fast – blink and you'll miss it.
Putting on an event like this does not come cheap -The equipment is very specialised. So the organiser Matthias Guett has been helped with European Union support, and he is already looking beyond this competition.
"The aim of the Paralympic movement, both the International Paralympic Committee and European Paralympic Committee is elite sports for people with impairment, so there is also the aim to take these youngsters, to help them to (get) support (from) coaches and to be maybe the next champions," he explained. "In our movement we really concentrate about abilities – 'Yes you can'."
Gabriel added: "These youngsters have lots of oomph. I tell them that nothing is easy, but the more interest you instill, the easier things become.
Things have evolved since the first Paralympics in 1960. Disabled skiers are still best catered for in Austria. Other countries still have some way to go.
Matthias Guett said: "It's very important that the wider public and the resorts understand about the needs of people with an impairment so they have everything fully accessible and it starts from the ski lift down to the restaurant and accessible toilets."
This is just the beginning. By March 2014 these youngsters will have met again in four different countries for more competitions. And once more they will forget their disabilities.
Remember their names!