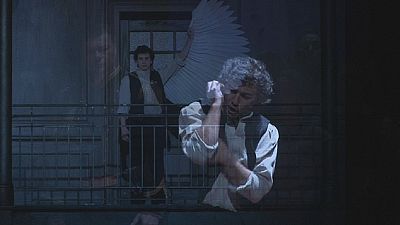 La Scala in Milan opened its new season with a production of Wagner's Lohengrin, an opera the composer himself said was his saddest work.
It is the renowned German tenor Jonas Kaufmann who takes on the title role – the knight of the swan and a custodian of the Holy Grail.
"I absorbed Wagner almost with my mother's milk," he said. "As a child it was constantly on in the background. When you get that music drop by drop, it is deeply rooted in you. And later on, when I looked more into the music, there were so many things coming back to me that I thought had been buried."
It is a taste of things to come next year when the 200th anniversary of Wagner's birth will be widely celebrated.
On the conductor's rostrum at La Scala this year is music director Daniel Barenboim.
Kaufmann said he will never forget his first appearance at the venue in 1999.
"That was of course extremely exciting for me back then," Kaufmann told euronews. "The moment before the curtain went up you could hear the overture and suddenly it had this impact on me and I thought: 'Oh my God I'm here on the La Scala stage'."
In the story, Elsa of Brabant is falsely accused of killing her brother.
An unknown knight appears to save her but warns that she must never ask his name.
When Elsa eventually asks the forbidden question and he must leave forever.
Today, Kaufmann is considered to have made the role of Lohengrin his own.
"There are often these moments where the hero appears suddenly, like lightning – with two or three very tough, businesslike phrases – and that then just disappear and once again he is the lover, who has obviously fallen for Elsa and who wants to protect her. The mission fades more and more into the background and his feelings move more into the foreground."
Kaufmann went on: "I like the failure of this personality, the complexity of the character. I think to play only a super hero, who is without any faults, is something extremely boring. It is much more interesting to play somebody who has many different facets, who is driven by his emotions.
"For me personally, one of the most beautiful scenes is one of the last moments of the opera, when the swan comes back.
"That is so fragile, so soft, so delicate, nothing is left of the glamour and glory of the hero – nothing but the little human being standing there, knowing that he has failed."