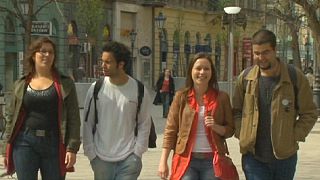 There are lots of ways to see the world. You can go as a tourist, work abroad, study, or you can become a volunteer.
 
Saskia, Imanol, Pedro and Vaida did just that. Coming from all corners of the world they enrolled on the EU Commission's European Voluntary Service. Now they are in Budapest in Hungary looking for a change and inspiration.
 
For Pedro, the scheme was the perfect opportunity to take his career on a different path:
 
"I realised from the professional experience I got during my degree that I did not really like the profession I was studying. Physiotherapy just doesn't fit in with my ambitions or my personality. So it was important for me to come to terms with that and try something different".
 
Imanol set out to work with young people:
 
"I don't have much experience in this area but I'm interested in it, in the field of education. This project works with young people and not in a monotonous way, there's a lot of room to be creative".
 
The aim of the European Voluntary Service is to give youngsters the chance to really exploit their potential. As well as learning new skills, they also get to learn a little more about themselves along the way.
 
Saskia, Vaida and Imanol have created a students club in a secondary school to promote cultural understanding.
 
Saskia describes how she thinks their work benefits the students:
 
"I think what we offer the students is freedom. They can come and concentrate on what they want to learn and do. It's an open space where their ideas are welcome and we listen to them".
 
The voluntary service is all also about solidarity.
Tackling unemployment Pedro and Imanol decided to start a group dedicated to helping job-hunters find work.
 
They even have a conversation workshop called 'tea time' where people can go to practice their English.
 
Imanol talks to euronews about the success they have had, crossing cultural and age barriers:
 
"We've had the opportunity to meet people from different generations, not just young people. Some of them have problems because they can't find work. We've created an interesting dynamic between people from different cultural backgrounds and we've learned a lot."
 
The volunteering projects are a partnership between organisations which send people abroad and others which host. Saskia, Imanol, Pedro and Vaida are supported by the Egyesek Youth Association.
 
The group coordinator Tamás Mahner puts the volunteers in touch with local insitutions. He also organised a trip to a Hungarian orphanage, where everyone had the chance to pitch in and help out.
 
Tamás Mahner, EVS coordinator, Egyesek Youth Association explains:
 
"Being a volunteer is when you act actively in society and you do something for a community which answers their needs. If a lot of people do this they can realise that with small energy they can change the world".
 
However it is not all work and no play. The project gives its members the chance to sample the local nightlife – all in the name of altruism of course.
 
For Saskia, the city will always have a special place in her heart:
 
"I like this city very much because you can do everything anytime but on the other hand I don't feel like it is a big city as there are only two million."
 
In 2010, nearly 7000 youngsters enrolled in the programme and it is hoped this year the number will reach double figures.
 
The European Voluntary Service gives thousands of youngsters the opportunity to get unforgettable life experience, while improving their job prospects in the process.