Zelenskyy vows 'not to retreat' from Ukrainian city Bakhmut
Comments
By Euronews with AP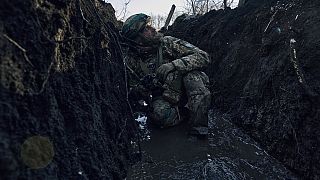 -
Copyright

LIBKOS/Copyright 2023 The AP. All rights reserved.
Ukraine's president has vowed to "not retreat" from Bakhmut as Russian forces pile into the wrecked eastern city. 
Volodymyr Zelenskyy made the comment during his nightly address on Monday, saying his advisers had unanimously agreed to press on with the fight against Russia's army and bolster Ukrainian defences.  
Moscow has waged a bloody campaign to capture Bakhmut for six months, framing it as the key to seizing the wider Donbas region. However, its strategic importance is debated by experts. 
Last week, one of Zelensky's advisors said defenders may have to let go of the devastated city and fall back to nearby positions. 
Speaking to AP, top advisor Mykhailo Podolyak said Ukrainian troops around Bakhmut have ground down enemy forces, strengthened their positions and prepared tens of thousands of Ukrainian troops for a possible counter-offensive.
On Monday, US Secretary of Defence Lloyd Austin echoed this view: Moscow continues "to pour in a lot of ill-trained and ill-equipped troops" into Bakhmut, while Ukraine patiently builds "combat power".
Nearby villages and towns, such as Chasiv Yar and Kostiantynivka, have come under heavy shelling in recent days as Moscow has carried out a three-pronged attack to finish off Bakhmut. 
Homes and cars have been damaged, though no casualties were reported. 
Almost no homes are left standing in Chasiv Yar. 
Moscow's push for Bakhmut is an attempt to gain some momentum on the battlefield, while vindicating the effectiveness of its war effort. 
Russian forces have so far been unable to deliver a decisive blow which would enable them to seize the city, though they are now hoping for some good news on the front. 
Fighting in eastern and southern Ukraine has been largely deadlocked amid bitter winter conditions, following Ukraine's successful counteroffensive in the autumn. 
Bakhmut is also highly symbolic for Ukraine. 
By resisting Russia's grinding attacks, Kyiv wants to show mettle and underscore it is still capable of holding out after a long year of bloodshed -- precursors for western support. 
Still, experts have questioned whether Ukrainian soldiers should continue their gritty defence, with some suggesting a tactic retreat may be underway. 
Michael Kofman, the director of Russia studies at the US-based CAN think tank, said Ukraine's defence of Bakhmut had drained the Russian war machine, but that Kyiv should now refocus its objectives. 
"The tenacious defence of Bakhmut achieved a great deal, expending Russian manpower and ammunition," he tweeted late Sunday.
"But strategies can reach points of diminishing returns, and given Ukraine is trying to husband resources for an offensive, it could impede the success of a more important operation."
Bakhmut had a prewar population of around 70,000. Last week, deputy major Oleksandr Marchenko told the BBC it had plummeted to 4,000, with the remaining civilians living in shelters without access to gas, electricity or water.