'We will find the killers' vows Zelenskyy following alleged execution of unarmed Ukrainian soldier
Comments
By Euronews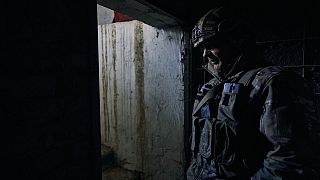 -
Copyright

LIBKOS/Copyright 2023 The AP. All rights reserved.
Ukraine's chief prosecutor announced a criminal investigation on Monday after footage emerged of what appeared to be Russian troops executing an unarmed Ukrainian prisoner of war earlier this month.
A video circulating on social media showed a uniformed Ukrainian soldier standing and smoking near the devastated eastern city of Bakhmut. The soldier recited Ukraine's battle cry, "Glory to Ukraine" just before a volley of gunshots hit him.
He then fell back into a shallow hole dug into the ground.
While the authenticity of the video has yet to be confirmed, the footage sparked outrage in Kyiv.
The alleged killers were not caught on camera and their identities have yet to be verified.
In his nightly address on Monday, Ukraine's President Volodymyr Zelesnkyy promised that justice would be served: "I want us all together, in unity, to respond to his words: 'Glory to the hero! Glory to heroes! Glory to Ukraine!' And we will find the killers".
Ukraine's Foreign Minister Dmytro Kuleba has also voiced his anger since the video went viral.
"Another proof that war is genocidal," Kuleba tweeted.
Ukraine's military has identified the soldier as Tymofiy Shadura and has since announced that he went missing on February 3.