UN Secretary-General: upholding women's rights is 'not a charity' its a must
Comments
By Euronews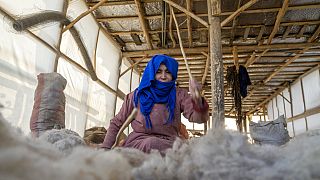 -
Copyright

Ebrahim Noroozi/Copyright 2022 The AP. All rights reserved.
The United Nations Secretary-General issued a dire warning to world leaders on Monday and said that women's rights are at risk of backsliding at a global level.
"Gender equality is growing more distant. On the current tracks, UN Women puts it 300 years away," said Antonio Guterres in a speech to the General Assembly in New York ahead of the UN session of the Commission on the Status of Women.
Guterres also warned of violence against women, mortality in childbirth and workforce inequality as top threats to gender equality globally.
"In many places, women's sexual and reproductive rights are being rolled back. In some countries, girls go to school risking kidnapping and assault. In others, police prey on vulnerable women they have sworn to protect" said Guterres.
"Maternal mortality is increasing. One woman dies every two minutes during pregnancy or childbirth, most of these deaths are preventable. The impact of the COVID-19 pandemic continues for millions of girls forced out of school, mothers and caregivers forced out of paid employment and children forced into early marriage" he said.
Guterres called on nations to promote greater inclusivity for women in the fields of science, technology, engineering and math, he also called out the spread of misogyny on social media as well as a wide gender gap in the growing field of artificial intelligence.
"Misogynistic disinformation and misinformation flourish on social media platforms. So-called "gender trolling" is specifically aimed at silencing women and forcing them out of public life. The stories may be fake, but the damage done is very real" he warned.
Over the next two weeks, participants from across the world, including world leaders, government representatives, the UN, civil society and youth groups, as well as activists will examine how gender equality, empowerment and sustainable development can be achieved in the digital era at the 67th Session of the Commission on the Status of Women (CSW).
Also speaking at the opening session of the CSW at UN Headquarters on Monday was Iceland's premier Katrín Jakobsdóttir: "We all know that the world as we know it has largely been designed by men for men" she said.
"But what about the digital world where we spend an increasing amount of our time? Who designs the algorithms that have more control over our thoughts and decisions than we care to think about?
"If we do not have data on women and if the algorithms are mainly designed by men, the risk is that new technologies will make our world even more unequal. Therefore, gender equality must remain a top priority regarding innovation and technological change" she added.