Estonia's centre-right Reform Party comes first in parliamentary elections
Comments
By Euronews with AP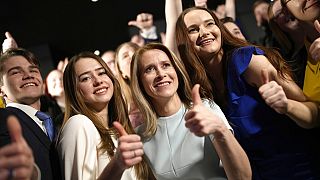 Estonia's Reform Party, headed by Prime Minister Kaja Kallas, has secured first place in Sunday's parliamentary election, taking approximately 31.4% of the vote.
Nine political parties in all fielded candidates for Estonia's 101-seat parliament or Riigikogu. Over 900,000 people were eligible to vote in the general election, and nearly half voted in advance.
Preliminary results suggest that six parties passed the 5% threshold required to become a part of parliament including newcomer Eesti 200, a liberal centrist party. Voter turnout was reportedly 63.7%.
With 99% of votes counted EKRE has come in second place with 16.1% while the Centre Party, traditionally favoured by Estonia's sizable ethnic-Russian minority has secured 15%.
Keeping pressure on Russia
The initial results mean the Reform Party is in a remarkably strong position to take a leading role in forming Estonia's next government; its support translates into 37 seats in the legislature. But it will need junior partners to form a coalition with a comfortable majority to govern. 
"This result, which is not final yet, will give us a strong mandate to put together a good government," Kallas told her party colleagues and jubilant supporters at a hotel in the capital, Tallinn.
"I think that with such a strong mandate, the [aid to Ukraine] will not change because other parties, except the Conservative People's Party of Estonia (EKRE) and maybe Centre, have chosen the same line," she said.
"We have to do major reforms [during the new term] regarding green transition for example. We also have to invest in our security. Our aggressive neighbour has not vanished and will not vanish, so we have to work with that."
Inflation and the economy
Kallas had faced a challenge from the far-right populist EKRE party, which wants to limit the Baltic nation's exposure to the Ukraine crisis and blames the current government for Estonia's high inflation rate.
In order to stay in power, Reform will again have to form a coalition with one or more of the parties that entered the Baltic state's 101-seat parliament.
Kallas has ruled out being in a government with EKRE due to ideological differences and is likely to turn to former coalition partner the Center Party and outgoing coalition partners - the small conservative Fatherland party and the Social Democrats - for a pact.
Kallas became prime minister in 2021 and has emerged as one of Europe's most outspoken supporters of Ukraine during the year-long war.
A Baltic nation of 1.3 million people that borders Russia to the east, Estonia broke away from the Soviet Union in 1991 and has taken a clear Western course, joining NATO and the European Union.
EKRE party leader Martin Helme has faulted Kallas for the country's inflation rate of 18.6%, one of the EU's highest, and accused her of undermining Estonia's defences by giving weapons to Ukraine.
"We've never questioned support for Ukraine. We've never questioned Estonia's membership in NATO," Helme said in an interview with The Associated Press. "That's just crazy talk. But we have been very critical of the government because they have not assessed the risk to Estonia and to Estonian security and defence."
Kallas argues it's in her country's interest to help Kyiv. The full-scale invasion of Ukraine sparked fears in Tallinn that a Russian victory could embolden Moscow to switch its attention to other countries it controlled in Soviet times, including Baltic nations Estonia, Latvia and Lithuania.
She says that Estonia's defences remain strong as the United States and other NATO allies have supplied top-notch weapons like the HIMARS rocket system to Ukraine and also to Estonia.