Ukraine war: A day of defence, death and diplomacy as anniversary of Russia's invasion looms
Comments
By Euronews with AP, AFP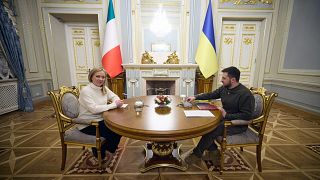 While Tuesday was a big day for speeches about Ukraine in Moscow and Warsaw, in Kyiv, Kherson and Kharkiv and other cities across the country, it was another brutal and heartbreaking day of war.
Six people died either shopping at a market or waiting at a bus stop in Kherson as Russia's army targeted civilians with Grad-21 multiple launch rocket systems. Dmytro Pletenchuk, press officer of Ukraine's Kherson military administration, said 16 other people had been injured and civilian buildings and infrastructure destroyed.
In Kharkiv explosive experts went about the business of clearing the remains of Russian missiles, a task that would take months even if the fighting stopped immediately.
Unexploded ordnance regularly kills civilians in the city, which was the scene of heavy fighting before being liberated by Ukraine.
"It happens again and again that residents move on mined ground or ground contaminated with other explosives, with often fatal consequences," said Maxim Yuryevych, Civil Protection Ukraine. "If people don't die, they are often seriously injured, losing arms or legs."
With Ukraine relying on international support since Russia's invasion almost a year ago, defence and diplomacy go hand in glove for President Zelenskyy.
On Tuesday he hosted the Italian Prime Minister Georgia Meloni on her first visit to Ukraine since her government took power in October. She pledged Italy's full and unwavering support in the face of Russian aggression.
Giorgia Meloni said: "We have reached our sixth package of aid also sending military instruments, based mainly on anti-air defence systems, to defend the civilian population, to defend strategic infrastructure."