NATO, EU and Ukraine agree to ramp up arms production to help Kyiv's war efforts
Comments
By Euronews with EFE, AFP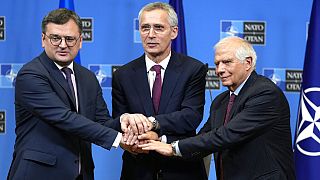 -
Copyright

Virginia Mayo/Copyright 2023 The AP. All rights reserved
NATO will help Ukraine set up an arms procurement system of its own that is "effective" in dealing with Russia's invasion, NATO Secretary General Jens Stoltenberg said Tuesday.
In addition, NATO, Ukraine and the European Union agreed to convene a group of arms procurement experts to see how they can help Kyiv "ensure that it gets the weapons it needs," Stoltenberg said.
The NATO chief met with Ukrainian Foreign Minister Dmytro Kuleba and EU High Representative for Foreign Affairs Josep Borrell, just days before the first anniversary of the Russian invasion and at a time when Kyiv is asking its allies to supply more long-range weaponry.
"We have to be aware of the fact that, from February 2022, Ukraine and its closest partners are carrying out the biggest logistical operation since the Second World War and, behind the big political decisions and declarations, there are millions of issues that need to be resolved," said Kuleba.
He added that the more coordination between NATO, Ukraine and the EU, the sooner the Ukrainian army will be able to push back the Russian army from its territory.
Stoltenberg 'concerned' over China's involvement
Meanwhile, Stoltenberg raised his concerns about the prospect of China supporting Russia's war efforts by supplying arms. This was originally raised by US President Joe Biden earlier this week.
"We are also increasingly concerned that China may be planning to provide lethal support for Russia's war", Stoltenberg said. "Putin must not win, that would show that aggression works and force is rewarded. It will be dangerous for our own security and for the whole world".
Borrell asks for more financial donations
As for EU support, Borrell said he was in favour of using the European Peace Support Fund, which the EU-27 have used since the beginning of the war for this purpose. He also asked member states to consider contributing more money beyond the collective fund.
At the Foreign Affairs Council on Monday, EU foreign ministers discussed Estonia's plan to jointly purchase ammunition worth €4 billion.