Ukraine war: Biden hails NATO unity as Putin blames West for Russian invasion
Comments
By Euronews with AP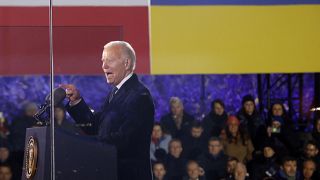 -
Copyright

AP Photo/Michal Dyjuk
With the first anniversary of Russia's invasion on Friday, Tuesday was a day of keynote speeches with Presidents Biden and Putin each reflecting on the conflict and attempting to set the agenda for global security.
President Biden said Russia's aggression threatened the world but also international peace.
"When Russia invaded, it wasn't just Ukraine being tested. The whole world faced a test for the ages," Biden said in an address from the foot of Warsaw's Royal Castle. "Europe was being tested. America was being tested. NATO was being tested. All democracies were being tested."
Vladimir Putin's state of the nation speech in Moscow reiterated a litany of grievances he has frequently offered as justification for the widely condemned military campaign, while vowing no military let-up.
"We aren't fighting the Ukrainian people," Putin said.
"The Ukrainian people have become hostages of the Kyiv regime and its Western masters, which have effectively occupied the country."
President Biden's speech in Warsaw came a day after his surprise visit to Kyiv and he used his time in the Polish capital to bolster relations with his hosts.
The White House has praised several eastern flank countries, including Lithuania, Poland and Romania, over the last year for stepping up efforts to back Ukraine with weapons and economic aid and taking in refugees.
Biden has given particular attention to Poland's efforts. The country is hosting about 1.5 million Ukrainian refugees.
"The truth of the matter is: the United States needs Poland and NATO as much as NATO needs the United States," the US president said during talks with Duda on Wednesday.
Joe Biden also met Moldovan President Maia Sandu in Warsaw, who last week claimed Moscow was behind a plot to overthrow her country's government using external saboteurs.
Sandwiched between Ukraine and Romania and one of Europe's poorest countries, the eastern European nation has had historic ties to Russia but wants to join the 27-nation European Union. Biden in his remarks endorsed Moldova's bid for accession.
"I'm proud to stand with you and the freedom-loving people of Moldova," Biden said of Sandu and her country in his Tuesday address.
Before departing Warsaw on Wednesday, Biden will hold talks with leaders from the Bucharest Nine, a collection of nations on the most eastern parts of the NATO alliance that came together in response to Russian President Vladimir Putin's 2014 annexation of Crimea from Ukraine.
President Biden's speech did not include a direct response to Vladimir Putin's announcement that Russia will suspend Moscow's participation in the last remaining nuclear arms control pact with the United States.
Putin emphasised, however, that Russia isn't withdrawing from the pact yet, and hours after his address the Foreign Ministry said Moscow would respect the treaty's caps on nuclear weapons. It also said Russia would continue to exchange information about test launches of ballistic missiles per earlier agreements with the United States.