'Kyiv stands strong' says Biden in address outside Warsaw Castle
Comments
By Euronews with AP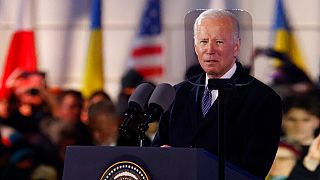 In an impassioned speech outside Warsaw's Royal Castle, US President Joe Biden reiterated his commitment to Ukraine and to NATO on Tuesday, telling the crowd that had gathered to see him, "freedom is at stake".
"Hard and bitter days" are ahead, Biden warned, but stressed that "Ukraine will never be a victory for Russia, never".
Biden was speaking during a two-day visit to Poland, just days ahead of the first anniversary of Russia's full-scale invasion of Ukraine. He arrived in Warsaw on Monday evening after paying an unannounced visit to Kyiv. 
"Democracies of the world will stand guard over freedom today, tomorrow and forever," he said at the Royal Castle, a historical landmark in Warsaw, before a cheering crowd of Polish citizens and Ukrainian refugees.
He also reaffirmed the United States' dedication to European security as he met with Polish President Andrzej Duda on Tuesday, part of a series of consultations with allies to prepare for an even more complicated stage of Russia's invasion of Ukraine.
"We have to have security in Europe," he said at the presidential palace in Warsaw. "It's that basic, that simple, that consequential."
Biden described NATO as "maybe the most consequential alliance in history," and he said it's "stronger than it's ever been" despite Russian President Vladimir Putin's hopes that it would fracture over the war in Ukraine.
The conflict in Ukraine -- the most significant war in Europe since World War II -- has already left tens of thousands of people dead, devastated Ukraine's infrastructure system and damaged the global economy.
Biden spoke on the same day as Putin delivered his long-delayed state-of-the-nation address, in which he announced that Moscow would suspend its participation in the last remaining nuclear arms control pact with the United States.
The so-called New START Treaty caps the number of long-range nuclear warheads they can deploy and limits the use of missiles that can carry atomic weapons.
Ahead of the speech, Jake Sullivan, the White House National Security Advisor said that Biden's address was not "some kind of head-to-head" with Putin's speech.
"This is not a rhetorical contest with anyone else," said. "This is an affirmative statement of values, a vision for what the world we're both trying to build and defend should look like."