Growing concern over the lack of Ukrainian child refugees in Portugal attending local schools
Comments
By Euronews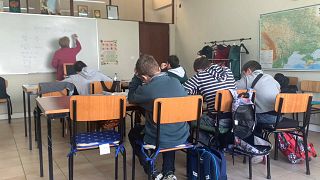 -
Copyright

Euronews/Filipa Soares
Russia's invasion of Ukraine has seen millions of people flee their country for safety in neighbouring nations, in what the United Nations has described as the worst refugee crisis in Europe since the Second World War.
One of these countries, Portugal, is believed to have welcomed more than 58,000 Ukrainians, of which about a quarter are minors. But only some 32 per cent of these children are attending school locally.
Olena Lukina was pregnant when she fled her home in Ukraine at the start of the war almost a year ago with her son, Dmytro. He is not going to a Portuguese school.
"He spent one day in school but there wasn't any other Ukrainian boys or girls, so he was sad about this fact. Also, he was a little bit scared because he doesn't understand the Portuguese language. That's why we decided not to traumatize him and let him study online with a Ukrainian school," said Olena.
Every day, from six in the morning, 10-year-old Dmytro follows classes given online by the school he used to attend in Ukraine. Sometimes they are interrupted by bombing or power outages.
He says he misses being at school in his hometown with his friends.
"Yes, I have friends in Portugal. They are Ukrainians also. I met them when we played outdoor. Also I go to Ukrainian school every Saturday and I have friends there," he says.
The Association of Ukrainians in Portugal says there is a reason why many Ukrainian families are not sending their children to local schools.
"Some say their goal is to return to Ukraine. Others explain that they will still finish this school year at the Ukrainian school (online) and then when their children understand Portuguese better, in early September, they will go to a local school" says Alyona Smertina who works with the association.
At the beginning of the school year, the Portuguese Minister of Education expressed concern about the low number of Ukrainian refugees enrolled in schools.