Ukraine war almost a year old and top of the agenda at Munich Security Conference
Comments
By Euronews with AP, AFP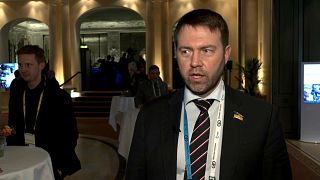 -
Copyright

Libkos/Copyright 2023 The AP. All rights reserved.
The war in Ukraine dominated the 59th annual Munich security conference, which saw 450 international leaders and experts debate the most pressing international security issues of the day.
With an American expert warning the international community should face up to the fact Russia may not be defeated, and a Ukrainian parliamentarian repeating his country's requests for more weapons to ensure that outcome is avoided.
Ian Bremmer, President of Eurasia Group, said policymakers had to be pragmatic.
He said: "I look at Ukraine and I see a war that Ukraine could lose, and I think we have to admit that to ourselves. I hope they don't, but in reality, they might not be able to displace Russia from a lot of the territory that they are presently occupying."
Ukrainian parliamentarian Sergii Ionushas said that after almost a year of fighting his country would do whatever was necessary to ensure a swift and successful resolution of the conflict.
"We should prepare for anything, but I hope we will receive weapons, as we can so that we can help to win quickly," said Sergii Ionushas, Ukrainian MP and head of the parliamentary law enforcement committee.
Leaders from around the world
The three-day conference in Munich was also attended by the US Secretary of State Antony Blinken and by China's Foreign minister Wang Yi. The secretary of state accused China of failing to criticise Russia over its actions in Ukraine, while Chinese officials responded that America was prolonging the conflict by supplying weapons to Ukraine.