Three killed after 6.4 magnitude earthquake hits Turkish province of Hatay
Comments
By Euronews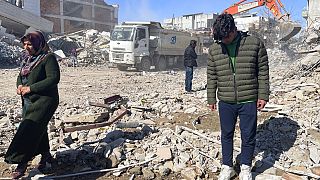 -
Copyright

Mehmet Mucahit Ceylan/Copyright 2023 The AP. All rights reserved
A 6.4 magnitude earthquake has killed at least three people in the southeastern Turkish province of Hatay just two weeks after a deadly 7.7 earthquake struck southeastern Turkey and northern Syria on February 6.
The Turkish Interior Ministry announced the fatalities and said more than 200 people were injured while six people are believed to be trapped under the rubble of three collapsed buildings.
Police said those trapped included movers shifting furniture and other belongings from the devastated region.
Scores of injuries were recorded in neighbouring Syria too.
The new quake centred in the town of Defne and struck just after 8 pm local time (18:04 CET).
It was reportedly felt in Antakya and Adana as well as in Syria, Israel Cyrpus and Jordan. It was followed by a 5.8-magnitude tremor.
The Turkish National Disaster and Emergency agency (AFDAD) said their teams were on alert and would respond to incoming reports quickly, they also added it was important to stay away from the coastline but removed a tsunami warning which they say was issued as a precautionary measure hours earlier.
Scores of injuries were recorded in neighbouring Syria too.
The White Helmets, northwest Syria's civil defence organisation, reported more than 130 injuries, most of them non-life threatening, including fractures and cases of people fainting from fear, while a number of buildings in areas already damaged by the quake collapsed.
To date, some 47,000 fatalities have been recorded in both countries, with the death toll still expected to rise.
Turkish President Recep Tayyip Erdogan, who faces elections in May or June, says his country will build tens of thousands of new homes as early as next month.
He visited Hatay earlier on Monday and said the new buildings would be no taller than three or four storeys and built to higher standards set in consultations with seismologists and other experts.