Drone footage reveals devastation of earthquake in northwest Syria
Comments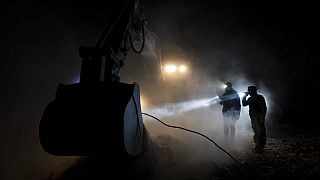 -
Copyright

Bernat Armangue/Bernat Armangue
Footage filmed by drones reveals the massive earthquake destruction in Jindris in the northwestern Afrin region of Syria. 
More than 4,400 people were killed and another 8,100 injured in northwest Syria by the twin quakes that had their epicentres across the border in Turkey.
At least 5,000 people, mainly Kurds, are now forced to live in the streets of Jindris and Afrin after their homes collapsed in the disaster. 
The earthquakes caused around 1250 buildings to collapse in the towns. 
First responders, who have led efforts in northwest Syria to rescue people from under the rubble, have repeatedly cautioned that the international assistance they have received comes nowhere close to meeting the enormous need in the war-torn, rebel-held territory.
"We didn't feel safe at home anymore," says Abu Abdou, a displaced Syrian and earthquake survivor.
Along with many other victims he is now living in a makeshift camp set up in the municipal stadium of the rebel-held city of Idlib, but they prefer to sleep in tents rather than spend the night fearing their cracked houses will collapse. 
The blame-game continues
Meanwhile, the search for accountability goes on.
More contractors and others responsible for poorly-constructed buildings that collapsed and caused heavy casualties were detained across Turkey on Thursday according to sources.
In southern Kahramanmaras province's Turkoglu district, three people were detained within the scope of an investigation regarding buildings that caved in.
Another five contractors were detained in Istanbul on the grounds of "killing by negligence" under the coordination of the Kahramanmaras Chief Public Prosecutor's Office.
And two more people suspected of being involved in defective construction work were detained in southeastern Osmaniye province. 
The pattern of detentions is being repeated across the whole region affected by the quakes as the country looks for answers as to why some buildings collapsed while others were left standing. 
The death toll from the 7.8 magnitude quake on February 6 stands at over 43,000 and is certain to increase as search teams find more bodies.
They include the body of Ghana international soccer player Christian Atsu, his agent revealed on Saturday.
The remains of the soccer star, who had been playing for Turkish club Hatayspor, were found amid the ruins of a luxury 12-story building where he had been living in the hard-hit city of Antakya, Hatay province.
The 31-year-old had previously played for English Premier League clubs Chelsea, Newcastle United, Everton and Bournemouth. 
The contractor of the luxury 12-story Ronesans Rezidans building - where Atsu and Savut lived - was detained at Istanbul Airport a week ago, apparently trying to leave the country.