Focus of Syria and Turkey earthquake relief efforts shifts to survivors
Comments
By Euronews with AP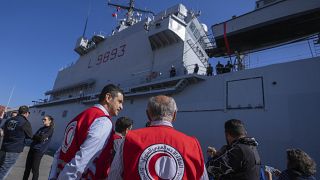 -
Copyright

Hassan Ammar/Copyright 2023 The AP. All rights reserved
The emergency response to the earthquakes in Turkey is now giving way to other humanitarian tasks that will continue for a long time to come. Finding survivors at this stage, almost two weeks after the earthquakes, is already a rare occurrence. 
Efforts are now focused on finding shelter for all those who have been left homeless in small towns and large cities across the country. 
Thousands of homes must be rebuilt for the many victims who are temporarily living in tents set up in public parks, among swings and exercise machines.
European aid
The first European Union aid shipments are making their way to the affected regions. A vessel from Italy has docked in Beirut with 16 containers stocked with tents, heaters and other vital winter items bound for the Syrian quake zone.
"Multiple planes have been landing in the last days in Beirut and also in Gaziantep", says the head of the EU's relief operation, Luigi Pandolfi. 
"Two logistic hubs have been activated so that we can gather the donation of European countries in Beirut to deliver in Damascus and in Gaziantep, to deliver in the northwest of Syria."
After being unloaded, EU aid coming through the Lebanese capital was delivered to the Syrian Arab Red Crescent.
Rising human cost
Turkish Interior Minister Suleyman Soylu updated the death toll in Turkey to 39,672, bringing the overall number of earthquake fatalities in both Turkey and Syria to 43,360.
The figure is certain to increase further as search teams retrieve more bodies amid the devastation.
While the chances of pulling survivors out from the rubble are increasingly small, there are happy exceptions. 
Emergency services rescued Hakan Yasinoaylu on Friday, who spent 278 hours beneath the rubble, according to Turkey's state-run Anadolu news agency. TV footage showed him being carried on a stretcher to an ambulance.
Click on the video above to see more.