Turkey-Syria earthquake: Did China really build a bridge that stayed intact after the disaster?
Comments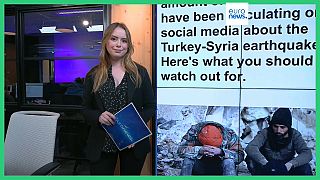 More than ten days after two catastrophic earthquakes struck Turkey and Syria, there is still a lot of disinformation circulating on social media about the natural disaster. 
The latest example: a tweet by the Chinese embassy in France published this week. The now-deleted post showed a video of a bridge in Turkey that the Chinese government claimed to have built.
The embassy went as far as to say the structure resisted the powerful earthquake thanks to their technology and the hashtag #ChinaTech was clearly a way to boast about Chinese innovation in the region. 
Later, an article was published by a Chinese government website claiming the Çanakkale Bridge remained intact after the earthquakes, and was built in partnership with the Chinese company Sichuan Lu Qiao.
Did China really build the bridge?
The bridge does exist and is located in the Western part of Turkey, neighbouring Greece and Bulgaria. It's also the longest suspension bridge in the world. 
The Cube searched an international database which collects information about different structures around the world and found that no Chinese company was majorly involved in its construction. 
The design was spearheaded by Tekfen Insaat Ve Tesisat A.S., a Turkish company and the detailed design was taken care of by a company based in Denmark called COWI AS.
According to the bridge's official website, four other companies invested in the construction of the bridge: two are Turkish and the other two are South Korean. 
A bridge located... 1,000 kilometres away from the epicentre
But the second part of the tweet that doesn't check out is the fact that the bridge is more than 1,000 km away from the epicentre of the earthquakes which hit close to this city of Gaziantep in the east.
A map of the aftershocks shows clearly that the bridge is too far away to have been impacted in any way by the earthquake. 
After receiving a massive wave of criticism both from social media users as well as the French media, the Chinese embassy deleted the web article as well as the tweet.