#TheCube: Watch out for fake quake donation scams and unrelated videos
Comments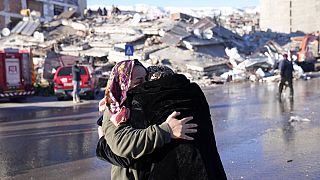 -
Copyright

Hussein Malla/AP
It's a race against time as rescuers keep toiling to pull survivors from under the rubble in Turkey and Syria.
The World Health Organization suggests the final death toll from Monday's devastating earthquake could hit 20,000.
As in many natural disasters and conflicts, disinformation is at an all-time high on social media. 
Euronews has already debunked old and unrelated viral videos claiming to show the aftermath of the earthquake. 
But with the disinformation continuing to spread, here are a few examples you should be wary of:
Be careful with scam donation accounts
It's not just misleading photos or videos, fake donation accounts have proliferated since the tragedy and they're ready to scam people wanting to help rescue teams and survivors.
"The sad reality is that scams always pop up immediately after disasters, after a conflict or any major event," Bitdefender security expert Christian Stahie said.
According to Bitdefender's research, this new wave of scams, which includes targeted emails, is mostly hitting the US, the UK, Germany, and Ireland.
So how do you avoid these scams?
Here are some of the red flags Stahie said you should look out for:
1. Poorly written emails: Stahie suggests looking out for grammar and spelling mistakes. A lot of scam emails and social media accounts will look like they have been awkwardly translated.
2. Reaching out directly: Most charity organisations will not reach out directly to an individual on social media or via email asking for a donation.
3. Asking for donations through cryptocurrency: Most reputable charities never ask for donations. "Our advice is that if you really want to donate to help the victims in Turkey, a simple internet search will yield reputable charity organisations that are much safer," Stahie said.
4. Always be skeptical: Stahie believes that you should always be wary of any links even your closest friends send you. "Don't believe anything you receive by email, on social media, or through friends," he told Euronews. 
More old videos claim to show kitchen staff hiding
A video claiming to show a hotel kitchen in Turkey during the earthquake has been viewed by millions of people on Twitter and other social media platforms.
When Euronews did a reverse image search, it found an identical video on Youtube dating back to 2020. The caption alleges the CCTV was captured in Izmir, Turkey.  
Euronews could not independently verify that this video was filmed in Turkey, but it does coincide with a powerful earthquake that hit Turkey and Greece in 2020, killing more than 116 people.
For more watch Euronews' report in the video above.