The Northern Ireland Protocol: What is it and where does it stand?
Comments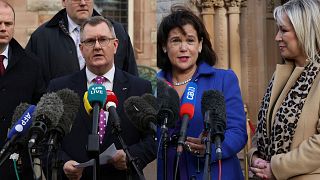 -
Copyright

Liam McBurney (PA via AP)
Could an agreement on the Northern Ireland Protocol finally be in sight? UK representatives were out in force on Friday, with Prime Minister Rishi Sunak in Belfast and Foreign Secretary James Cleverly in Brussels for political talks on the issue.
Early reports suggest that talks with the heads of the main governing parties in Northern Ireland had been constructive. The Democratic Unionist Party (DUP) leader, Sir Jeffrey Donaldson, said progress has been made across several areas, but further work is required before a deal on the Northern Ireland protocol is concrete.
Alliance Party leader, Naomi Long, echoed Donaldson, telling reporters that although talks were moving gradually in the right direction of a deal, "we are not over the line yet".
However, Sinn Féin's President, Mary Lou MacDonald, gave a more upbeat assessment, saying "significant progress had been made" following her meeting with Sunak.
The Irish Taoiseach Leo Varadkar also voiced that he was "quietly confident" that a deal could be finalised within a fortnight.
"It does seem as though there's much more positive mood music coming out of both sides at the moment," says Jill Rutter, a Senior Research Fellow for UK in a Changing Europe at the Institute for Government. "I think expectations are being raised. And it would now be very surprising and be something of a letdown if some sort of new agreement didn't emerge."
What is the protocol?
The Northern Ireland protocol is a special arrangement aiming to ensure the land border between Northern Ireland (which is part of the UK) and the Republic of Ireland (which is an EU member state) continues to be invisible and thus respects the 1998 Good Friday Agreement that ended decades of sectarian violence between Catholics and Protestants.
Under the scheme, Northern Ireland would follow EU customs rules, remain part of the Single Market for goods and apply EU VAT (Value Added Tax) in order to avoid border checks between the North and the Republic. All inspections and checks would be carried out at Northern Irish ports between Great Britain and Northern Ireland, rather than at the border with Ireland.
What's being discussed?
Top of the agenda at the meetings was trade. One of the biggest bones of contention in the Northern Ireland Protocol has been a dispute over maintaining the same flow of goods between the Republic of Ireland and Northern Ireland without the presence of a physical border.
The EU is believed to have made compromises on customs checks on items moving from Great Britain and Northern Ireland.
Some progress was made in January when Westminster agreed to share real-time information on customs data with Brussels.
"Although the UK had committed to that, it hadn't actually been allowing the EU to see the real-time information. And that system just went into operation relatively recently. So maybe that has swayed some of the EU's concerns about trade and at least there's knowledge that they can now have access to that data." says Rutter.
Dormant Stormont
For his part, Sunak is trying to build support from both unionist and nationalist parties to try and get the deal over the line.
"There's a certain possibility that this could actually come off [for Sunak]," says Simon Usherwood, a professor at the University of Surrey. "I think everyone's levels of enthusiasm for more shenanigans and difficulties and arguments is very limited."
But it's not just about the Northern Ireland protocol. It's also about trying to restore Northern Ireland's executive. Northern Ireland has not had a functioning government since February last year.
In May 2022, Sinn Féin took became the largest party in the 90-seat assembly for the first time in the history of Northern Ireland's formation. This entitles the party to appoint the new first minister.
However, the runners-up, the DUP, said it would veto the move to allow the executive to resume as part of its protests over post-Brexit customs checks.
Donaldson reiterated Friday that the DUP would only agree to the arrangement if the parties' 7-steps were accounted for in the draft.
"I think Unionists in Northern Ireland, will be cautious about anything that looks like a major concession, the DUP had been very clear that they wouldn't stand for any operation of the protocol in Northern Ireland. And this still very much embeds it and makes it endure," says Usherwood.
What does an agreement look like? And is it likely?
While the mood among all parties seems to be one of optimism, analysts are still unsure as to what an agreed-upon protocol would involve.
"What's clear is that this isn't going to be a rewriting of the protocol. So we're not changing the basic texts, instead trying to find wiggle room within the agreements that we already have," says Usherwood.
"I think one of the things that we would know is that these things tend to usually go more slowly than you expect," says Rutter. "Sometimes you have a few false starts, when you think you have an agreement and then something else happens."