Train delays and cancelled flights: Fifth day of pension reform protests grips France
Comments
By Euronews with AFP, AP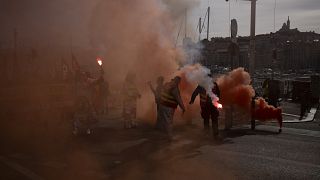 -
Copyright

Daniel Cole/AP Photo
French unions called for a new strike on Thursday against the pension reform policy at the heart of President Emmanuel Macron's second term, but the turnout was sharply down from the weekend.
This latest round of demonstrations is expected to be less disruptive than on previous occasions, with the Paris metro working normally and most schools unaffected.
But a railway worker walkout will severely disrupt high-speed TGV trains and regional services. And almost a third of flights are expected to be cancelled at Paris' second busiest airport, Orly.
Despite these scheduled disruptions, fewer workers are expected to participate on the fifth day of protests because of school holidays across most of France.
Police said around 650,000 people could participate in demonstrations across the country. On Saturday, the police claimed that 963,000 people participated in protests against pension reform, although unions put that figure closer to 2.5 million people.
Thursday's protests against Macron's plan – which would raise the legal retirement age from 62 to 64 – aim to maintain the momentum of the demonstrations ahead of a mass walkout on 7 March.
The reform would also require people to have worked for at least 43 years to be entitled to a full pension.
The inter-union coalition says the demonstrations on 7 March could "bring France to a standstill". A recent poll suggests that around 58% of the country supports the strikes. Another poll suggested around 70% oppose pension reform plans.
"Nothing must work on 7 March," Murielle Guilbert, a member of the Union Syndicale Solidaires, said at a feminist meeting on Wednesday. And on 8 March, International Women's Rights Day, "all women must be in the streets and everywhere!".
The country's main youth organisations have also announced a national day of mobilisation on 9 March.
Meanwhile, parliamentary debates on the reform are entering their final stretch in the country's National Assembly.
Lawmakers will examine the text starting at midnight on Friday before sending it to the Senate.