Refuge in Germany: One million Ukrainians have settled since war broke out
Comments
By Nader Alsarras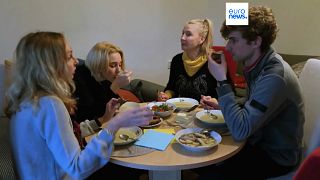 It's lunchtime at Albina Okulova's home. The 51-year-old Ukrainian fled from Kyiv right after the Russian invasion. She came to Potsdam in Germany, with her mother Liudmyla and daughter Kseniia.
Confidence returns
Albina's son Danylo, is also in Potsdam. He has been living and studying here since 2020.
Despite having to leave her country, Albina is relieved that she is now reunited with her family. And also thankful for being able to live in peace in Germany.
"When I came here," says Albina. "I had just one sport suit to wear and €200 in my pocket. Now I feel confident, my daughter goes to school again and I study too, so I can be allowed to work again."
It's not the first time that Albina had to start over. Up until 2015, she used to live and work as a doctor in Crimea. After the Russian annexation, she fled to Kyiv.
Her 15-year-old daughter now goes to a so-called "welcome class" in Potsdam. But she says she misses her school and friends in Kyiv.
"I'm making new friends," says her daughter Kseniia. "Yes, it's hard, because I am in a new situation, in a new country… it's hard, but I can do it!"
Albina drives to a government office in Potsdam, where she needs to apply for German classes. She wants to learn the language as soon as possible in order to be able to work as a doctor again. It is difficult because the bureaucracy takes a lot of time – a thing that most Ukrainians in Germany struggle with, she says.
"It keeps me endlessly busy, so I can't find peace," she says. "Because I'm constantly having to do some paperwork, like a document that's expiring or something else at the end of the year. I have no peace to devote myself to learning German and raising my daughter."
Housing just one of many issues
Over one million Ukrainians have come as refugees to Germany since the war began. And although government support is now working better, there are still major challenges. The main problem is a shortage of housing, especially in major cities like Berlin.
But there are many other problems, according to the Vitsche organization - a Berlin-based association that, among other things, provides assistance to Ukrainian refugees.
"It's a similar story when it comes to finding a job, and school and daycare places," says Vitsche spokesperson Krista-Mariya Läbe. "If there are no daycare places, then the mothers, for example, can't go to the integration courses or the language courses. And then, of course, it's difficult to find a job afterwards, because you need the German language in many areas."
To tackle the housing problem, local authorities have set up containers, as temporary housing for refugees. Liudmyla, Albina's mother, lives in one of them.
But the 71-year-old does not complain. Although she worries about and misses her relatives in Ukraine, she is happy to have a roof over her head in Germany and thankful that she was reunited with her family in a safe place.