French unions hold fifth day of protests against proposed pension reform
Comments
By Euronews with AP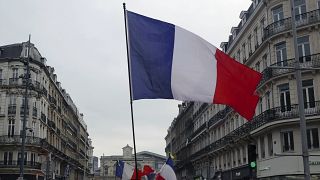 -
Copyright

Michel Spingler/Copyright 2023 The AP. All rights reserved.
The ranks of marchers were thinner but across France, hundreds of thousands of people took to the streets for a fifth day against the government's proposed pension reform. 
There was less disruption during Thursday's protests than at recent rallies, with the Paris Metro, most mainline train services and most schools, unaffected. 
However, a railway worker walkout disrupted high-speed TGV trains and regional services and almost a third of flights were cancelled at Paris' second busiest airport, Orly.
In addition, classes were cancelled at a handful of universities due to student blockades.
Paris police put the number of people marching in the French capital at an estimated 37,000. The CGT union, one of eight backing the protest, said it was closer to 300,000.
The proposed pension reform has unleashed the most turbulent debate in years in the National Assembly, with uncertainty looming over the final outcome.
Opponents have filed thousands of amendments to delay debate, now making it uncertain if the lower house will actually get to the critical Article 7, which sets out the change to the age of retirement, before the Friday midnight deadline. The pension bill — whether or not it has been fully debated — will then automatically go to the Senate for consideration.
Polls have consistently shown that a large majority of the French public is against President Emmanuel Macron's proposed reform, which would raise the minimum retirement age from 62 to 64.  
Click on the video above to see more.