Ford to cut 3,800 jobs in Europe over next three years
Comments
By Euronews with AP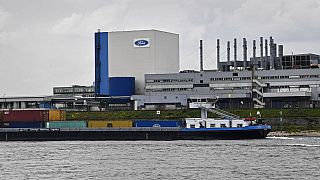 The Ford Motor Company plans to slash 3,800 jobs in Europe over the next three years in a bid to establish "a leaner more competitive cost structure for Ford in Europe." 
The automaker will embark on consultations "with the intent to achieve the reductions through voluntary separation programs" Ford said.
2,300 jobs will be cut in Germany, 1,300 in the UK and 200 elsewhere on the continent.
This comes as the company plans to build a €3.26 billion factory in Michigan, US, that would employ at least 2,500 people to make lower-cost batteries for a variety of new and existing electric vehicles.
The plant will be built some 160 kilometres west of Detroit. The facility is to start making batteries in 2026. Ford says the plant will produce 35-gigawatt hours worth of batteries, enough to supply 400,000 vehicles per year.
The factory would produce batteries using lithium-iron-phosphate chemistry, which is cheaper than the current nickel-cobalt-manganese chemistry now used in many EV batteries.
Consumers could then choose between a battery with a lower range and cost, or pay more for a higher range and power. The company wouldn't give any prices just yet.
"We will deliver one of the lowest-cost batteries produced in the United States. And it's good business. And it's good for our customers," Ford CEO Jim Farley said at a news event in Romulus, Michigan, announcing the new plant.
Ford says a wholly-owned subsidiary would own the factory and employ the workers.
But China's Contemporary Amperex Technology Co. Limited, or CATL, which is known for its lithium-iron-phosphate expertise, would supply technology, some equipment and workers.
Ford company officials reported that net income fell 90% in the last three months of 2022 from a year earlier. It said costs were too high and that it contended with a global shortage of computer chips and other parts used in its vehicles.
In Europe, Ford has some 34,000 employees at wholly-owned facilities and consolidated joint ventures.