After almost a year of war, how do Russia and Ukraine's military capacities compare?
Comments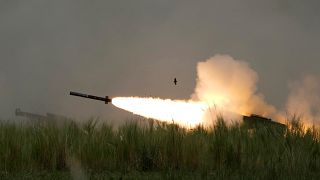 After almost one year of fighting following Russia's invasion of Ukraine, how do the military capacities of the two countries compare? Exact figures and precise information are, understandably, hard to come by, but we do know that Western powers are supplying some heavy weaponry to Ukraine. Most recently, according to statements made in Brussels on 9 February, Ukraine is asking several Western partners for fighter jets. This follows an historic agreement to supply modern tanks by Germany, the UK and the USA, with lighter weaponry coming from France, Poland and other NATO members in Europe.
Will Russia be able to produce and purchase enough arms to continue its ongoing aggression or even simply to defend the occupied territories?
Is the Ukrainian military prowess sufficient to retake the occupied and unilaterally annexed territories, or is the principal task today - resistance to the Russian advancement?
"Ukraine critically dependent on Western supplies"
According to the Israel-based military commentator David Gendelman, Russia is not curbing its attacks. _"At the moment, Russia has the advantage in arms, primarily in barrel and jet artillery as well as aviation, and the Russian military industry allows for fighting at the current capacity. Russian consumption of artillery ammunition has significantly dropped compared to the spring-summer period, and that slows the Russian pace." However, he says Russian forces are advancing, slowly but surely. "Nevertheless progress, albeit slow and in narrow sections of the front, is being made."
Gendelman points out that the Ukrainian army is largely dependant on the western supplies of modern weaponry.
"Ukraine is critically dependent on Western supplies. At the moment the main task of the Ukrainian forces is defence. To think about significant counterattacks beyond local counterattacks is possible only with the receipt of significant quantities of Western weapons, which are promised, but not yet delivered."
"Moscow trying to delay its inevitable defeat"
In the months following the Russian invasion, the world saw heavy losses of Russian military hardware, damaged and abandoned on the battlefield. The Kremlin appeared unprepared for the realities of full-scale head-on combat: a quick annexation of territories was allegedly planned by Moscow with the Rosgvardia, the National Guard Troops, expected to ensure territorial and public security on the ground in the first weeks of the invasion.
But that's not what happened and the offensive may have caused damage to the Russian armed forces that will take a long time to repair, according to Pavel Luzin, a US-based expert on Russian foreign and defence policy:
"It is impossible to restore Russia's military potential. The army was at the peak of its strength in 2020-2021, and it will not return there. But it is trying to stretch out its agony. Take ISIS: without aviation and with a minimum of armour and artillery, the Islamic State was able to resist a superior international coalition for almost four years. That's how Moscow is trying to delay its inevitable defeat."
Strengthening supplies to Ukraine in two main areas: armoured vehicles and artillery
Neil Melvin, Director of International Security Studies at the Royal United Services Institute (RUSI) suggests Ukraine is slowly gaining control over the situation, especially with the arrival of the modern armaments supplied by the Western partners:
"The war has really been going on since 2014 [and the Russian annexation of Crimea]. Going into this new round of fighting (which began in February 2022) both sides are already well equipped: Russia had a comprehensive range of capabilities and Ukraine had some significant ones, but lacked key armaments in certain areas.
"In the first phase of the war, when Ukraine managed to blunt the Russian assault first on Kyiv and then gradually grind down the Russian drive through Donetsk, an enormous amount of Russian equipment was captured and repurposed.
"The Ukrainians have taken control and then just sort of repainted and rearmed lots of this Russian equipment, which of course, they're very familiar with. They now have pretty good air defences, which when going into the war were really very thin: mostly a few Soviet rather old systems. They've now got some of the most modern Western ones, which have been quite effective in taking out the Russian drones and missiles, although a few still get through.
How has the situation evolved since the early onset of tensions in 2014?
"What we see now is a push to provide the Ukrainians with modern armoured vehicles and to provide Ukraine with modern artillery and rocket forces. They have quite a lot of artillery. Actually, one of the largest artillery forces in Europe built up from 2014 primarily.
Four months into the war, the bombardment of Mariupol and the atrocities of Bucha (near Kyiv), the US announced the supply of long-range HIMARS systems to counter the Russian attacks.
"The range of these has been increased, particularly with the donation of modern artillery and howitzer systems. And most recently the United States has boosted artillery with a range of about 150 km  by modifying the previously supplied well-known HIMARS systems.
"With these new missiles, the Ukrainian forces from their current lines will be able to hit Russian forces in almost all of occupied Ukraine, not the southern and eastern-most parts of Crimea and not the eastern-most parts of the Donetsk region, but everywhere else will be within range.
"But they still lack the longer range, up to 300-km range missiles, the United States is denying requests to supply those and the Ukrainians don't have modern NATO standard fighter jets. They're still using Soviet era ones, the Russian ones. These are still essentially Soviet-era technology.
Since last summer dozens of countries have allocated military aid to Ukraine in the form of modern weapons systems and financial support. Melvin added:
"The challenge for the Ukrainians is to actually use all of this in a coordinated way to try and break through the Russian lines in what's called combined arms operations: linking them all up. That's the challenge."
Russia "running short on advanced equipment"
On the Russian side, military capacity has also evolved, although not in the same way, according to Melvin. 
"Russia went into the war with massive armed forces in large numbers. They lost a lot of equipment. They lost a lot of men. But they've used the winter to somewhat reconstitute their armed forces.
"The Kremlin had a 300,000-man mobilisation, beginning in September of last year, who are now in place.
"They have a lot of Soviet-era equipment: there were huge stockpiles when the Soviet Union collapsed. They have a lot of artillery shells, they have a lot of tanks and armoured vehicles, not necessarily the most modern ones, but in large numbers. They're unlikely to run out of that basic equipment.
Since his Munich declaration against NATO expansion into Eastern Europe in 2007, President Putin has been menacing the West with Russian military innovations: in 2018, we even saw an animation of a new secret missile seeming to strike US territory. These new cutting-edge systems, however, are not present in the war in Ukraine, despite what has been suggested. They remain largely lab models or virtual, rather than implemented, technologies.
"Where Russians are running short is on the more advanced post-Soviet systems of rockets and advanced armoured vehicles," said Melvin.
"So the battle, I think, comes down to essentially a question of Russia's going to try and use its overwhelming amount of resources, particularly its manpower, to break through the Ukrainian lines without necessarily much sophistication in linking up different parts of the armed forces."