'The bodies start to pile up', as search efforts turn to grim recovery
Comments
By Maria Mois with AP, Anadolu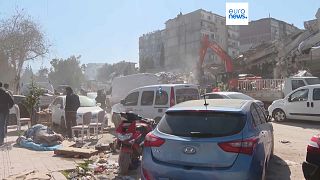 -
Copyright

Euronews Romania
The Turkish city of Antakya is one of the worst hit places after Monday's earthquake. Dozens of buildings have collapsed in the region.
In less than two minutes in the early hours of Monday morning, the lives of almost 400,000 inhabitants of this city on the border with Syria changed forever, as the ground shook and buildings collapsed around them in the biggest earthquake to hit this part of Turkey in decades. 
At every turn in Antakya, Euronews' Maria Mois reports, you see piles of debris and rubble, and under the concrete and stone lie countless bodies.
Reluctantly, firefighters give the order that search and rescue efforts should now turn to grim recovery. 
It's not clear how many bodies might still be trapped under Antakya's ruins, but emergency workers, volunteers and family members will try to ensure everyone is found. 
Nationwide, officials say more than 21,000 people have now been reported dead so far. The 7.8 magnitude tremor has impacted more than 13 million people across 10 provinces, including Adana, Adiyaman, Diyarbakir, and Gaziantep.
Several countries neighbouring Turkey, such as Syria and Lebanon, also felt the strong tremors that struck in the space of fewer than 10 hours.
Turkey has also declared seven days of national mourning after the devastating quakes.
Behind each casualty figure lies a tragedy. But rescue workers are still working tirelessly to retrieve both the dead and the living, even as hope for survivors fades. 
But there are moments of joy: a family in Antakya was saved after being trapped under rubble for 96 hours, Turkish media reports. 
The earthquake and its aftershocks hit Turkey's Hatay province the hardest, particularly, Antakya, its provincial capital, where more than 1,000 buildings are reported to have collapsed.
Survivors in the city, which was home to almost 400,000 people, say more than half the buildings were reduced to rubble.