Mounting pressure on President Erdogan as he visits quake-stricken areas
Comments
By Euronews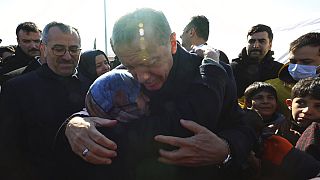 -
Copyright

AP/Turkish Presidency
Three days after two devastating earthquakes laid waste to large swathes of his country, Turkish President Recep Tayyip Erdogan made a difficult visit to some of the worst-hit areas.
Erdogan inspected an apocalyptic landscape in the southern city of Gaziantep on Thursday, before confirming the death toll had risen to nearly 17,000 and announcing new economic measures to help victims.
"While the damage assessment is underway, in this transition moment we will reward our citizens with economic help of 10,000 liras (€494)," said Recep Tayyip Erdogan, President of Turkey. "With this kind of support, we want at least to alleviate their problems slightly," he added.
With just three months to go before the presidential elections, and amid mounting criticism over his handling of the disaster, Erdogan on Wednesday acknowledged "shortcomings" in the government's response.
Many people have been forced to seek their own food and shelter, while others have watched on helplessly as family members were unable to be rescued from beneath the rubble.
"We, as civilians, support these people, but I am not a crane, I can't lift these concrete blocks.  Where is the army? Where is the state? Where is unity? Where is the solidarity?," said one resident of Adiyaman in southeastern Turkey.
Turkey's main opposition leader Kemal Kılıçdaroğlu has said that government corruption in the construction industry has exacerbated the tragedy, and accused Erdogan of failing to enforce building safety standards.
Watch video in player above.