Former British police officer sentenced for serial rapes
Comments
By Euronews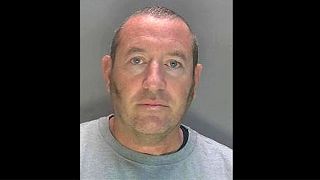 -
Copyright

Hertfordshire Police via AP
A former UK police officer has been sentenced to at least 30 years in prison over a series of sexual offences.
David Carrick had already admitted to dozens of counts of rape and sexual assault in a London court at the start of his trial in January, making him one of the country's most prolific sex offenders.
He pleaded guilty to 49 offences including 24 counts of rape and was given 36 life sentences by Mrs Justice Cheema-Grubb.
The offences mostly took place near where he lived in Hertfordshire, outside of London, and spanned a period of 17 years. During that time, he worked for the Metropolitan Police safeguarding diplomatic and parliamentary premises. 
Carrick met some of his victims through online dating sites, or in social situations, and used his job as a police officer to gain the trust of the women he went on to abuse.
He admitted to raping women on multiple occasions, over months or years, with some of the attacks involving violence that would have left the women physically injured.
A spokesperson for the Metropolitan Police said at the start of Carrick's trial that they were "truly sorry" for missing opportunities to identify him as a threat, despite numerous complaints being made about his conduct over the years.