Chinese Foreign Ministry denies balloon in US airspace is collecting sensitive information
Comments
By Euronews with AP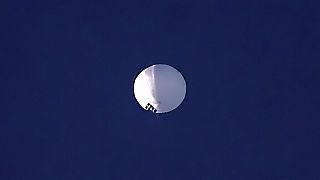 -
Copyright

Larry Mayer/AP
The Chinese Foreign Ministry has denied that a balloon spotted in U.S. airspace is collecting sensitive information, stating it was a civilian "airship" used for mostly meteorological purposes that had accidentally strayed. 
In a statement on Friday, the Ministry said that China regrets its unintended entry into U.S. airspace and that it had deviated from its course due to winds.
The US is tracking the balloon that has been spotted over its airspace over the last few days. The Pentagon has so far decided not to shoot it down over concerns of hurting people on the ground.
A senior defence official told Pentagon reporters that authorities have "very high confidence" that it is a Chinese high-altitude balloon and it was flying over sensitive sites to collect information.
One of the places the balloon was spotted was Montana, which is home to one of the nation's three nuclear missile silo fields at Malmstrom Air Force Base.
The Pentagon's press secretary, Brigadier General Patrick Ryder, has said the US government continues to track the balloon and that it is "currently travelling at an altitude well above commercial air traffic and does not present a military or physical threat to people on the ground."
The incident comes days before Secretary of State Antony Blinken is due to make his first trip to Beijing, expected this weekend, to try to find some common ground between the two world powers.
Although the trip has not been formally announced, both Beijing and Washington have been talking about his imminent arrival.
It was not immediately clear if the discovery of the balloon would impact Blinken's travel plans.
Click on the video above to see more.