Renault is reducing its stake in Nissan as part of major rebalancing deal
Comments
By Euronews with AP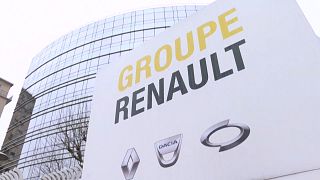 Nissan and Renault have agreed to equalise the stakes they hold in each other, the two companies said Monday, ironing out a source of conflict in the Japanese-French auto alliance.
Up to now, Renault Group has held a 43.4 per cent stake in Nissan Motor Co., potentially giving it a larger say in how the Japanese automaker is run. It will transfer shares equivalent to a 28.4 per cent stake to a French trust so each side will hold the same 15 per cent stake in the other, according to the companies.
The disparity between the holdings was a cause of friction, especially after Nissan became far more profitable than Renault.
The agreement on the change is still being finalised and needs board approval from both companies.
The companies said the shares in the French trust can eventually be sold but did not say to whom or how. They said the sale will be carried out in a "coordinated and orderly process" if a deal makes commercial sense to Renault Group, and that there is no time deadline.
Until then, the voting rights would be "neutralised" for most managerial decisions, but the economic rights, such as dividends, will continue to go to Renault, the companies said.
The top shareholder in Renault is the French government. Japanese Prime Minister Fumio Kishida met with French President Emmanuel Macron earlier this month.
For more watch Euronews' report in the video above.