'Devastating': EU student numbers in UK drop by half since Brexit
Comments
By Euronews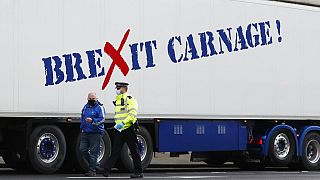 -
Copyright

Alastair Grant/Copyright 2021 The AP. All rights reserved.
The number of EU students choosing to study in the UK has dropped by half since Brexit, according to new official figures. 
Data from the Higher Education Statistics Agency (HESA) shows that enrollments by EU nationals dropped by 53%: from 64,120 students in 2020/21 to just 31,400 in 2021/22. 
While the number of non-EU nationals did increase over the same period, UK universities still faced significant shortfalls in student numbers overall.
HESA said the fall in EU scholars "aligns" with the UK's exit from the bloc and the changing international fee policy. 
Before Brexit, EU students paid home fees of just over £9,000 (€10,255) in England and Wales, and could qualify for student finance. Fees have soared to as high as £38,000 (€43,300) after the UK withdrew from the bloc. 
Concerns around new visa rules due to Brexit are also having an impact, with there being a particularly sharp decline in the number of students from Italy, Germany and France. 
Dwindling numbers of undergraduates reduced diversity in the classroom and weaken the finances of universities that rely on EU students studying three or four-year courses, according to Universities UK. 
Similar falls were seen in Scotland, which voted to remain in the European Union at the 2016 Brexit referendum.    
The Scottish National Party's education spokesperson Carol Monaghan MP said: "It is devastating that Brexit is denying Scotland the opportunity to attract the best and brightest young talents that Europe has to offer. 
"The only way Scotland will be able to rebuild our connections with our European neighbours is with independence," the Glasgow politician said. 
Monaghan also highlighted the impact on Scottish students themselves.  
"Brexit has been catastrophic for young people across Scotland as their opportunities to work, travel and study in Europe have been severely hindered by the ending of free movement of people.
"The EU's Erasmus scheme gave our young people fantastic opportunities to study and explore in Europe and the UK's alternative Turing scheme is a pale imitation of Erasmus".
While EU enrolment numbers saw a decrease in 2021/22, non-EU first-year enrollments rose by 32%.
Most of these new international students came for one-year postgraduate courses.
The number of Chinese students has risen from 107,000 in 2017-2018 to 151,000 last year.
Universities UK said increased numbers of non-EU students had not offset the exodus of EU students at the undergraduate level, denting the finances of some universities and impoverishing campus life. 
The findings reveal "very clearly the impact of the sort of loss of freedom of movement and the change in European students' fee status, but also, and critically for undergraduates, the loss of access to student loans", said Charley Robinson, the head of global mobility policy at Universities UK.