Iran imposes sanctions against MEPs and EU institutions linked to crackdown on nationwide protests
Comments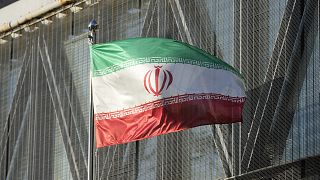 -
Copyright

Lee Jin-man/Copyright 2022 The AP. All rights reserved
Iran has announced sanctions against more than 30 European individuals and entities.
The move is a tit-for-tat response to recent European sanctions against Iranian officials linked to a crackdown on nationwide protests.
Iranians have been protesting against the regime since the death of 22-year-old Mahsa Amini who was arrested by the morality police for allegedly violating Iran's strict Islamic dress code last September.
The list of those sanctioned includes individuals such as Britain's attorney general and army chief of staff.
In France, scholar Bernard-Henri Lévy and three senior staff members at the French satirical magazine Charlie Hebdo have also been targeted.
The measures will bar travel to Iran and allow authorities to block bank accounts and confiscate property in Iran. Those targeted are unlikely to have either, making the move largely symbolic.
Several European parliamentarians and military officials were also blacklisted. Dutch MEP Thijs Reuten, of the PvdA (Labour) party, told Euronews he wasn't too concerned by the move.
"I think they are in panic and they feel very weak that's why they've moved to these kinds of measurements and it's bizarre that the regime thinks that they can silence the European Parliament." Reuten says. "The contrary is true. I'm even more motivated to continue our efforts to name the revolutionary guard for what it is, a terrorist organisation that is terrorising its own people and also using terrorist methods outside Iran.
Meanwhile, Iran claims the latest EU sanctions breach the UN charter.