'Punching fist of democracy': US and Germany poised to send Ukraine tanks
Comments
By Euronews with AFP/Reuters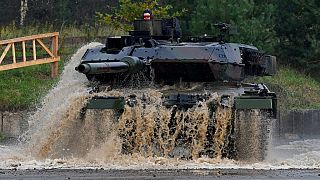 Copyright

PATRIK STOLLARZ/AFP or licensors

-
The United States and Germany are set to provide Ukraine with sought-after heavy battle tanks, Reuters reports.
Moscow blasted the move as a "blatant provocation". 
In a significant boost to Kyiv's war effort, Berlin green-lit the delivery of Leopard 2 battle tanks to Ukraine on Tuesday, reversing its policy of hesitance. This was confirmed by the Chancellery in the afternoon.
Meanwhile, Washington is expected to announce as soon as Wednesday that it will send M1 Abrams tanks to Ukraine, a source told Reuters. 
Giving Ukraine battle tanks has been a contentious issue in recent weeks. 
Some of Kyiv's allies, particularly in eastern Europe, have argued it is essential at a time when Russia is gaining ground on the battlefield, while others, notably the US and Germany, have worried about escalating hostilities.
Ukrainian President Volodymyr Zelenskyy pressed the West to donate their most modern battle tanks Tuesday evening, saying that "discussions must be concluded with decisions".
Moscow has warned supplying Kyiv with offensive weaponry will escalate the conflict. On Sunday, a Putin ally said it will lead to a "global catastrophe" by weakening arguments against using nuclear weapons.
German Chancellor Olaf Scholz has decided to approve sending Leopard 2 tanks to Ukraine, and will allow other countries -- such as Poland -- to do so as well, two sources told Reuters.
Countries wanting to export the tank must first ask Berlin's permission as they are German-made.
Spiegel magazine, which broke the news, said Germany was planning to supply at least one company of Leopard 2 A6 tanks, some 14 tanks.
Other European allies intend to go along with Germany in supplying their Leopards, the magazine reported.
Kyiv hailed the move as a potential game-changer on the battlefield, even if some believe the number of tanks falls short of what is needed to liberate Russian-controlled areas. 
"A few hundred tanks for our tank crews .... This is what is going to become a real punching fist of democracy," Andriy Yermak, the head of Zelenskiy's administration, wrote on Telegram.
There is still no official confirmation from Washington.  
One US official told Reuters their country would send about 30 M1 Abrams tanks over the coming months.
Fielded by some 20 armies around the world, Leopard 2 tanks are seen as the best option, since they are available in large numbers and easy to maintain.
While the US tank is considered less suitable due to its heavy fuel consumption and difficulty to maintain, Washington's move could pave the way for Germany - which has called for a united front among Ukraine's allies - to allow the supply of Leopards.