Classified documents discovered at former US VP Mike Pence's home, attorney says
Comments
By Euronews with AP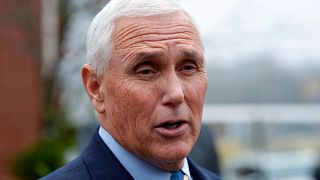 Documents with classified markings were discovered in former US Vice President Mike Pence's Indiana home last week, according to his attorney.
"The additional records appear to be a small number of documents bearing classified markings that were inadvertently boxed and transported to the personal home of the former Vice President at the end of the last Administration," Pence's lawyer, Greg Jacob, told the National Archives in a letter last week.
Jacob said that "Pence was unaware of the existence of sensitive or classified documents at his personal residence". 
Additionally, the former US VP "understands the high importance of protecting sensitive and classified information and stands ready and willing to cooperate fully with the National Archives and any appropriate inquiry," Jacob stated.
A Justice Department spokesman declined to comment Tuesday, and a lawyer for Pence did not immediately respond to an email seeking further elaboration.
Pence told the Associated Press in August that he did not take any classified information with him when he left office.
Asked directly if he had retained any classified information upon leaving office, he said, "No, not to my knowledge."
The findings come just a couple of weeks after an investigation into President Joe Biden and the discovery of classified documents in both his former office space and his home.
Earlier this month, White House spokesperson Karrine Jean-Pierre told reporters that the US president had no knowledge of them. 
It is unclear precisely how many classified materials have been obtained from Biden's office and home, with Richard Sauber, special counsel to the president, claiming it was "a small number". 
Roughly 300 documents with classification markings — including some at the top secret level — have been recovered from former US President Donald Trump since he left office in January 2021.
In January 2022, the National Archives and Records Administration retrieved 15 boxes of documents, telling Justice Department officials they contained "a lot" of classified material. 
In August, FBI agents took about 33 boxes and containers of 11,000 documents from Trump's Mar-a-Lago property, including roughly 100 with classification markings found in a storage room and an office.