Slovenia snowfall: Alpine nation latest to fall victim to extreme winter weather
Comments
By Euronews with AP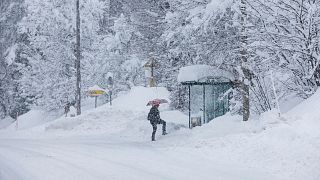 A snow storm packing strong winds wreaked chaos across Slovenia on Monday, leaving some major roads shut and parts of the country without electricity.
Officials said the late Sunday snowfall caused over a dozen traffic accidents overnight, with fallen trees blocking local roads and downing power lines -- including in capital Ljubljana.
Authorities urged Slovenians not to travel unless absolutely necessary. 
The highway connecting the Adriatic coastline with Ljubljana was blocked in some areas because of high winds. Heavy vehicles have been banned on the affected roads in the Alpine nation.
Meteorologists said the snow is expected to ease by Tuesday.
A tough winter for the Balkans
The snow storms come on the back of strong winds last weekend which prompted firefighters to respond to some 200 calls for help in neighbouring Croatia.
Snow also disrupted traffic in Croatia on Monday after blanketing parts of the Adriatic coast and some of Croatia's islands.
Other Balkan countries last week battled with floods caused by torrential rains. Many rivers and streams throughout the region overflowed, flooding homes and farmland and causing landslides.
Authorities in Serbia said Monday they recovered the body of the second victim of last week's flooding in the southwest of the country. The two men drowned after they were swept away by a raging river in the town of Novi Pazar.