Germany pledges to support Ukraine as 'long as necessary' during Élysée Treaty anniversary
Comments
By Euronews with AP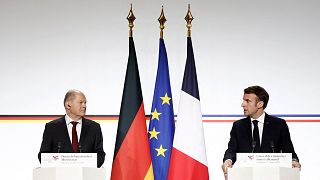 -
Copyright

Benoit Tessier/ AP
France and Germany are celebrating their decades-long friendship with a day of talks Sunday on Europe's security, energy and other challenges.
Germany's entire Cabinet is in Paris for joint meetings during the 60th anniversary of the Élysée Treaty. And 300 lawmakers from both countries are coming together at the Sorbonne University to mark the treaty that sealed a bond that underpins today's European Union.
French President Emmanuel Macron and German Chancellor Olaf Scholz oversaw two rounds of talks at the Élysée Palace focusing on energy and economic policy and defence.
"Let us use our inseparable friendship ... to shape the present and future of our continent, together with our European partners," Scholz said at the ceremony at the Sorbonne.
After Russia's invasion of Ukraine last year, the European peace project is at a "turning point," he said.
"Putin's imperialism will not win. ... we will not allow Europe to revert to a time when violence replaced politics and our continent was torn apart by hatred and national rivalries."
He added that Germany "will continue to provide Ukraine with all the support its needs for as long as necessary."
France and Germany have contributed significant arms to Ukraine, but Kyiv has continued to ask for tanks and more powerful arms.
Germany is one of the main donors of weapons to Ukraine, and it ordered a review of its Leopard 2 stocks in preparation for a possible green light. But Berlin has shown caution at each step of increasing its commitments to Ukraine.
President Macron said he has not ruled out sending Leclerc battle tanks to Ukraine and has asked his defence minister to "work on" the idea.
Meanwhile, Moscow warned that countries supplying Ukraine with more powerful weapons are risking their own destruction.
State Duma Chairman Vyacheslav Volodin said that governments giving more powerful weapons to Ukraine could cause a "global tragedy that would destroy their countries".
"Supplies of offensive weapons to the Kyiv regime would lead to a global catastrophe," he said. "If Washington and NATO supply weapons that would be used for striking peaceful cities and making attempts to seize our territory as they threaten to do, it would trigger a retaliation with more powerful weapons."