Retired general Pavel leads in poll ahead of Czech presidential vote
Comments
By Reuters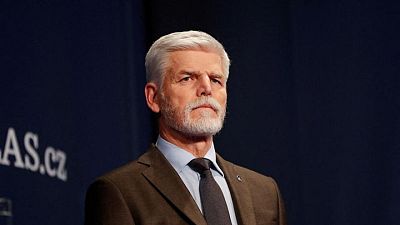 -
Copyright

Thomson Reuters 2023
PRAGUE – Retired general Petr Pavel held a 15 percentage point lead over billionaire ex-premier Andrej Babis heading into a Jan. 27-28 presidential run-off vote, a Czech Television poll showed on Saturday.
The two are squaring off in a second round vote starting next Friday after Pavel narrowly won over Babis in the first round of the election last weekend, although neither scored a majority of votes.
The poll showed Pavel leading with 53% compared to 38% for Babis with 9% undecided. The expected turnout could hit 84% in the poll next weekend, the highest ever in a Czech presidential vote, the survey found.
The post does not carry executive authority but has significant powers in appointing prime ministers, central bank chiefs and nominating judges for the constitutional court.
Presidents also have a limited say in foreign affairs.
Both Pavel, a former general who held a senior NATO military job, and combative opposition leader Babis, who served as prime minister from 2017-2021, would likely be more pro-Western than retiring incumbent Milos Zeman.
Pavel, 61, is strongly pro-Western and supports further military aid for Ukraine as well as adoption of the euro.
Babis, 68, who built a chemicals, farming and media empire now registered in trust funds, shares Zeman's warm relations with Hungary's Viktor Orban, who has been at odds with the European Union over the rule of law.
Babis has also spoken in the past against Ukraine military aid and has touted ambitions to organise a peace summit while attacking Pavel in the past week for being pro-war.
Pavel, endorsed by the centre-right government, has accused Babis of fear mongering.
Some voters have also voiced frustration that both first round winners were members of the Communist Party prior to the end of its rule in 1989.
Babis worked in foreign trade and was registered as a Communist-era secret police informant, which he denies. Pavel started his military career in the 1980s and enrolled in a military intelligence training course, which he completed after Communist rule collapsed.