Anti-abortion activists march through Washington DC
Comments
By Euronews with AFP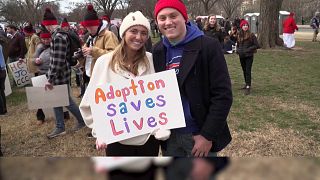 -
It was their first march through the US capital since the Supreme Court gave them what they had been demanding for half a century, but for anti-abortion activists gathered in Washington on Friday, the mood was more dogged than triumphant.
Seven months after the nation's highest judicial body removed federal protections for nationwide abortion access, protesters outside the conservative-led institution allowed themselves a modest victory lap, but most were focused on the fights ahead.
"We have a lot of work to do," said George Muench, a 74-year-old Catholic in a "March for Life" hat.
The march began in 1974 as a challenge to Roe v. Wade, a landmark Supreme Court ruling the previous year that guaranteed the right of American women to terminate their pregnancies.
Roe v Wade
Every January, activists from across the United States have descended upon the capital to walk to the courthouse's iconic front steps to urge the justices inside to reverse that decision.
On June 24 last year they got their wish. The high court, which had lurched to the right under hardline Republican former president Donald Trump, relented, giving states the freedom to pursue their own abortion bans.
More than a dozen states immediately rushed to do exactly that.
As determined as Friday's "March for Life" crowd was, their position is in the minority in modern America.
Referendums on reproductive rights held since June have all been won by abortion rights advocates, including in conservative states like Kansas and Kentucky.
From Sunday, the 50th anniversary of the Roe v. Wade decision, the other side gets its turn with pro-abortion rights demonstrators planning to rally in cities across the country.